With the conclusion of the Challenger League across all three main regions, let's take a look at some of the best action and biggest news across the lower-tier leagues over the last seven days.
Season 9 Challenger League
North America:
The first region to finish the Challenger League was in North America, where two Challenger League teams and one Pro League team fought it out. The first to go head-to-head were the two Challenger League Playoffs finalists of '92 Dream Team (formerly Vicious Gaming) and Susquehanna Soniqs after they had beaten Organised Chaos and Disrupt Gaming, respectively.
Waiting for the loser of the two, Rise Nation would have certainly been feeling somewhat confident. After all, they had recently beat Excelerate Gaming and the fearsome Team Reciprocity and held their own against Evil Geniuses. Their losses to DarkZero Esports and Rogue had also been close affairs, and it was clear that the addition of Brad "Remorce" Hickey as coach was working out.
'92 Dream Team 2 - 1 Susquehanna Soniqs
Border (7-4), Clubhouse (5-7), Consulate (7-3)
Starting off on Border, '92DT drew first blood by taking the map home in a 7-4 affair. While Soniqs had threatened in parts, it never seemed the case that they ever worried '92DT in particular. The story seemed to be having an identical ending for the second map, as '92DT once again got to a 4-2 lead on attack, but a strong fight from the Soniqs brought things to a third and final map.
The '92 Dream Team refused to wilt under the pressure of their more experienced opponents, however, though it seemed that way as the final map of Consulate got underway. Fighting their way through, '92DT would win on the the third map and progress straight to the Pro League -- against all odds after having finished fourth in the regular season.

For the Soniqs, it threatened the repeat of the Pro League eluding them exactly the way it had the previous season -- a loss to the Pro League team in relegations in a second back-to-back best-of-three. Despite all that, though, they refused to let that happen. This time, there was no heartbreak.
Susquehanna Soniqs 2 - 0 Rise Nation
Villa (7-4), Oregon (7-2), Consulate (Not Played)
Against the Soniqs, though, it did not work out. Despite starting on Villa, a map on which observers had defined as a stronghold for Rise Nation, it was the Soniqs who looked completely at home. They swept to a 4-0 lead unopposed, and would eventually fight off a potential Rise comeback to win the first map.
On the Soniqs' map pick of Oregon, the Pro League hopefuls got off to a flyer with two rounds in a row, but Rise Nation teased strong opposition with two rounds of their own on the trot. Unfortunately for them and their fans, that was all they would take home from the map. The Soniqs proceeded to go on an absolute tear, ripping through Rise, taking home the map 7-2, and securing promotion to the Pro League at long last.

Latin America:
In Latin America, it was the top two teams in the Challenger League that would face off against each other in the Playoffs Finals first -- YeaH Gaming and Team oNe -- with both organisations having had teams in the Pro League before. ReD DevilS e-Sports (RDS) awaited the loser of the two in a second exciting matchup.
Team oNe 2 - 1 YeaH Gaming
Coastline (7-1), Villa (5-7), Bank (7-3)
Team oNe started things off on Coastline with an absolutely dominant affair. They gave their opponents no quarter at all, and ended things quickly in a 7-1 affair. It seemed that the match would not go on for very long, but YeaH Gaming kept pace with Team oNe on Villa -- and later pulled ahead -- to force a third map.
Unfortunately, it seemed that YeaH did not have what it took to put Team oNe to the sword. Bank was not a particularly close affair, and Team oNe continued their undefeated streak in the Challenger League straight into the Pro League for Season 10. The newly minted Pro League squad has had a stunning 2019 so far, with their Allied Esports Minor Qualifiers victory against FaZe Clan prompting some to dub them the "Team Empire of LATAM".

YeaH Gaming would, of course, get a second chance against ReD DevilS, and would certainly have fancied their chances. After all, their Season 9 in the Challenger League went well enough while RDS was, at times, a one-man show. Their story, unfortunately, would not have as happy an ending as the Soniqs' did.
ReD DevilS e-Sports 2 - 1 YeaH Gaming
Oregon (8-7), Consulate (3-7), Bank (8-7)
In this matchup, there was to be no first map washout unlike the previous one for YeaH Gaming. They made sure to give their Pro League opponents absolute hell on Oregon, and it came down to a post-plant scenario in the final round to settle things. On map two, RDS' energy seemed to go down anti-climatically as YeaH Gaming defeated them by a four-round margin, and it seemed that YeaH would soon follow the Soniqs' example.
On Bank, though, it was not to be for the Challenger League squad. While they would push things to the full distance, YeaH Gaming would once again fall in overtime to RDS, and would see their Season 10 Pro League hopes crushed with that loss as well.

Europe:
To end the Challenger League across the three main regions was Europe, where the first placed Team Vitality took on the marshmallow powered MnM Gaming. Lying in tense wait for one of the two was Team Secret -- third-placed in Season 8 of the Pro League, but in seventh this season.
MnM Gaming 2 - 1 Team Vitality
Border (7-3), Oregon (2-7), Clubhouse (7-4)
MnM Gaming came into this game as the underdogs -- Team Vitality have always enjoyed immense organisational support and finished first in the Challenger League this season. But it was the majority-British squad that took the first map 7-4, upending the predictions of a fair few people.
Team Vitality struck back hard on Oregon, though, and the game was truly on. On Clubhouse, both teams were extremely evenly matched, winning rounds in turns, but it was after equalising 4-4 did MnM run away with the map, and thus made Team Vitality wait at least a game longer to get back to the Pro League.

While things seemed uncertain for the Frenchmen, get back to the Pro League they did -- albeit at the expense of Team Secret.
Team Vitality 2 - 1 Team Secret
Consulate (4-7), Oregon (7-3), Bank (7-3)
Team Vitality got off the back foot against the defending Pro League team of Team Secret, losing the first map of Consulate. Moving onto Oregon, it is entirely possible that Secret would have felt confident after having just seen Vitality play MnM Gaming on the same map, but Vitality only conceded one more round against Secret than they had earlier.
Moving onto Bank, it was do-or-die for both teams. Team Secret, a top-tier organisation fighting to stay in the Pro League. Team Vitality, another top-tier organisation fighting to get back into the Pro League after a season's hiatus. It was, unfortunately, a Pro League too big for two UK-based teams. Team Vitality won on Bank to see the return of a French team in the Pro League, while Team Secret dropped to the Challenger League two seasons after having achieved promotion.

BeNeLux League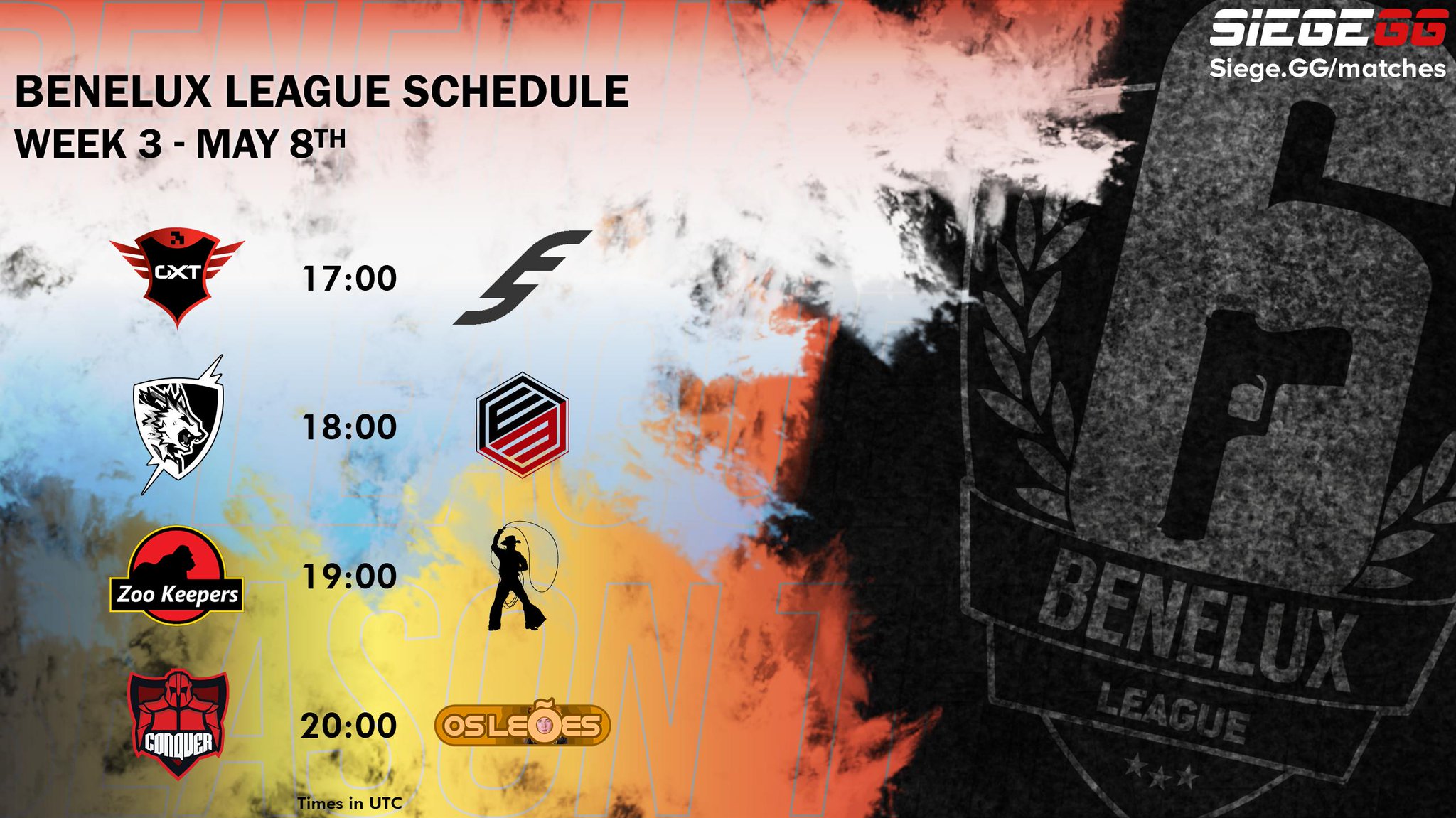 Over in the BeNeLux (BNL) region, the group stages continued as per usual. The top two of Trust Gaming and ForeignFive faced off to set the tone for the remainder of the season, followed by Elegance's Minions taking on Flash Point Esports a little lower down the table. Zoo Keepers and El Whiz Wranglers, two teams with eclectic names, would then face off, before Conquer Gaming would come up against Os Leões as the former looked for their first point of the season.
Starting off the night were league leaders Trust Gaming, who beat second-placed ForeignFive (FF) in an absolutely dominating 7-0 victory. While this had been a much-anticipated match for many, the ease with which Trust brushed aside FF was certainly unexpected.
Next, Elegance's Minions (EM) and Flash Point Esports (FP) both had a chance to tie ForeignFive on points, but all they managed to tie was the game between themselves. Initially keeping pace with each other, EM seemed to have successfully run away with proceedings and needed just one round to take the three points at 6-3. However, FP responded with some brilliance of their own, pulling the three rounds back that were needed.
Whatever the result, though, it is very worth noting that EM's player Theosadi since revealed that he had been cheating after he was banned some time following this week's matches. While the exact nature of his cheating is unclear, it is certain there will be consequences for the team. ESL has not yet announcned what will happen to EM's previous and future games, though XKS released a short statement on Reddit that shed some light:
We all had no clue that he was cheating nor was anything suspicious in his MOSS files.

I would also like to apologize to the people that we've played in scrims and to the teams in the league this season.

We will see what ESL will do regarding our spot in the group stages of the league. As of this time there hasn't been any announcement from ESL.
Up next were the Zoo Keepers (ZK), who overran the El Whiz Wranglers (EWW) despite the latter's whips trying to keep them at bay. The seaside map of Coastline was home to the matchup where ZK seemed to be in absolute control for all but two rounds, first going up 2-0, then 5-1, and finally closing out the map 7-2. The three points were much needed for Zoo Keepers who lost both previous matches, and keeps them in the hunt for a Finals spot.
Rounding out the night were Conquer Gaming (CG) and Os Leões (OL), with the latter once again playing with their usual roster instead of having G2 Esports' Kantoraketti and mousesports' SlebbeN in the playing roster. However, there was still no explicit success to be found for them. OL still could only manage a draw, which gave CG their first point of the BNL season.
As such, Trust Gaming and ForeignFive maintained their first and second places in the table, while Elegance's Minions, Os Leões, and Flash Point all followed with four points apiece after securing one point each this week. Zoo Keepers and El Whiz Wranglers swapped positions in the table, going sixth and seventh, respectively, while Conquer Gaming continued to languish in last.
However, as mentioned above, with Theosadi having cheated and having been subsequently banned, it is unclear what the status of Elegance's Minions will be in the BNL League henceforth. It is entirely possible that ESL disqualifies the entire team for this season, or exercises leniency by only voiding their previous matches in which Theosadi played.
---
And so, there's the weekly roundup of results across the Rainbow Six competitive world. Check back here next week for more coverage of R6 action at all levels of play!