Having moved to the United States from Qatar, where he grew up, Ammar "Necrox" Albanna has been no stranger to at least a bit of struggle, as he shared in The Players' Lobby. In college he found and began competing in Rainbow Six, and the rest is history.
After winning the Pro League in Season 3, he and the rest of Continuum followed it up with the Six Invitational 2017 title. Since then, the team was signed by Evil Geniuses, but further titles have not come for a side that many have long considered to be one of the best to play the game.
A big reason? G2 Esports.
Since G2's time as PENTA Sports, the two teams have been meeting time and again -- with the Europeans being the victors every single time. The first time was probably the worst, as Evil Geniuses were reverse swept by PENTA while being one map away from defending their world championship crown. Later signed by G2 Esports, the serial winners added another title to the list, this time destroying Evil Geniuses in the Six Major Paris Grand Final.
Other results have not exactly gone the way of Evil Geniuses either, being knocked out by a severely depleted Fnatic at the Season 8 Finals, and a surprisingly potent Team Reciprocity at the Six Invitational 2019.
This season, though, the players have all moved to their new team apartments in Seattle, have taken all their previous failings into consideration and attempted to plug their holes, and, for once, will not have to worry about G2 Esports who failed to qualify for the Pro League Finals. With how long it has been since conditions have been as ripe as they are and how long ago Evil Geniuses' previous title win was, some consider these Finals to be 'do-or-die' for the North Americans.
There are few people better to make that judgement than G2 Esports' Niclas "Pengu" Mouritzen, who considers this event to be "quite a big do-or-die" for Evil Geniuses. Regardless of what everyone else thinks, though, SiegeGG had a chat with Necrox to glean his thoughts on his team's season so far, and their preparation for Milan:
Let's address the elephant in the room -- rather, the lack of the elephant in the room -- G2 Esports. They will not be at Milan, so does this mean you guys will be breathing a little easier?
We won't be practicing any more or less without the presence of G2. After all, good teams are still going to the event.
How much of a do-or-die will these Pro League Finals be for your team? Many are saying there's never been a better chance for your team to win. Does that add to the pressure too?
It certainly isn't a do-or-die situation since that's an awful mindset to have for competition. We have come extremely close in the past in winning a final.
Save for a brief scare, your online season went really well. How do you guys plan to translate that into offline play?
We're playing teams from different regions which means the play style is going to be completely different than the online season; adaptation is key.
How does it feel moving into the team apartments in Seattle? How much of an improvement do you guys think you can make thanks to this closer proximity with each other?
We've always improved drastically during bootcamps since problems and mistakes are pinched/fixed much quicker. So we expect playing together at a facility all year round would have a similar effect.
Immortals are a team that have not had the best offline play, but what are some key strengths of theirs, or of LATAM in general, that you will be addressing in your preparation?
Most LATAM teams, especially Immortals, are hyper-aggressive and like to take risks a lot of other teams don't usually take. If we can control the aggression, we'll have a much easier time closing out rounds.
What is your opinion on ESL abolishing the rule that two teams from the same region cannot face each other in the quarter-finals?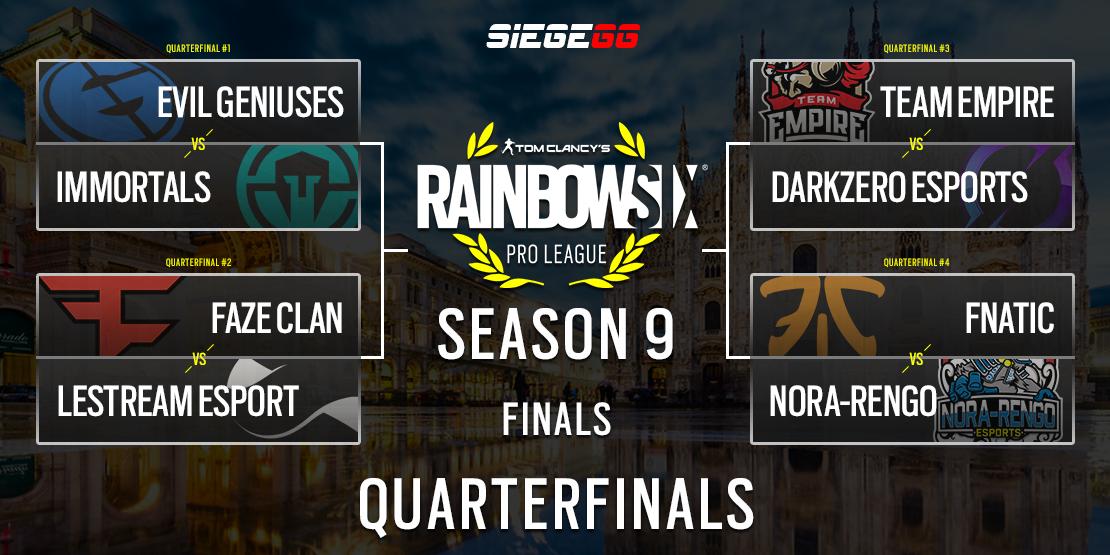 Offline events are where the different regions clash. It's a lot less interesting when teams within the same region play each other during the event when they've just played each other twice beforehand (obviously unless those teams make it to the Grand Finals).
What is the one team you think is worth watching out for this event?
Team Empire -- they've dominated EU Pro League this season, though they've had a roster change recently which could have a drastic impact. Whether it's negative or positive though... only time will tell during the event.
Who do you think is going to be winning the other three quarter-final games?
My guesses are on LeStream Esport, Team Empire, and Fnatic.
---
The Milan finals will be held on the 18th and 19th of May, and Evil Geniuses will be looking to clear three tough hurdles on their way to their first title in nearly two-and-a-half years, with the first being Immortals. Catch our coverage in the run-up to Milan, and be sure to check back during the event for more Siege action right here at SiegeGG.