From March 2016 to March 2017, Z1ronic was part of the professional team Playing Ducks, alongside other well known names in the Pro League scene such as meepeY, ENEMY, Elemzje and Panix. Their biggest success was reaching the PL Y1S3 Finals, loosing against Continuum, a team that one year later would be picked by Evil Geniuses.
Z1ronic also participated in the Y2S1 Pro League where Playing Ducks reached the Playoff stage, however after losing to GIFu eSports on the semifinals and to GBots after a tight 3rd Place Match, they missed the chance to qualify for the PL Finals in Katowice.
The Danish player then moved to the Desk Host as a commentator in the two first seasons of the Nordic Championship, and on February 2018 he got the chance to participate as an analyst at the Six Invitational 2018. Since then, he has been an analyst or a commentator at every PL Major tournament played, including the Six Invitational 2019, where we got the chance to caught up with him and talk about his thoughts of the event and the upcoming changes that the community will see during Year 4:
How did you find this Invitational?
Twice as good as the last one. The size of the event and the competition is way better than before. I don't know if we can beat the Finals of the last year just because of the upset and the comeback, but apart from that, I've been surprised about some of the teams that were knocked out. The fact that we don't have Rogue, EG, Liquid or FaZe, and then you see Empire and G2. If we only went by numbers it would have probably have made sense, but there are many things that can go left or right in Siege. I'm happy that we have the team that can't be beaten against the team that has beaten everyone.
Out of the teams that have been playing here, which one has surprised you the most?
I wouldn't say SSG surprised me. I had high hopes on them and I expected them to do well, however they surprised other people and the community in general. They are definitely the biggest stand out. NORA-Rengo's energy and Team Empire also impressed really quickly. On a negative note I'm surprised that LeStream and Reciprocity didn't play as good as they did before. Reciprocity got really far in the tournament, credit to them for reaching that stage, but their performance against G2 was really deceiving. I was surprised with LeStream, a team that is normally so innovative, that comes up with new ideas and new ways to playmaps. We have seen them playing Penthouse in Coastline, being one of the only teams that did so in Pro League. So seeing them to not make it further was quite surprising as well.
Looking at the new season of Pro League. Do you think the operators that are about to come in, Nomad and Kaid, will change the current meta?
Note: These comments were made prior to Kaid and Nomad joining the competitive rotation
I think it's going to take a while before they get in the new meta, as the teams have to first figure out how to use them. I honestly think that people have been kind of sleeping a bit on them and not spending those three months to really practice with them on scrims. At least that's the idea that I get listening to teams talk, they haven't been putting that much of evidence that they have been practicing with them, so it's all going to come down to who figures it out before and answer questions like Is Nomad going to be used to flank, Is she going to be used for after plant, What's the most effective way to use her. The same goes to Kaid, Is it really worth to Kaid-Trick hatches? So I think that some maps are going to change quite a lot. You have a lack of utility when you go with Nomad? I don't think she is going to change the game too much, while with Kaid his guns are not that strong, there was a good thing with his shotgun when there was the "Q and E spam" but as this is going to be addressed I don't know if he is going to be too impactful.
A lots of balancing changes are coming in. Ash losing her ACOG, the changes to Capitão, Dokkaebi and Glaz... What are your opinions on those?
Note: Since these responses, the Capitao changes have been rolled back and are not in the current build of the game
I'm honestly terrified for Capitão. I don't think the ACOG change on Ash is going to matter at all. Every Ash Pro that I can think of is either instantly capable of playing Maverick, which might make them more scary as they are going to play the same play style and use the utility just like an extra thing and not as their main thing, they will still able to remove Maestro cameras, they can actually open hatches, they can make holes in everything... so imagine someone like Kanto, instead of using an Ash we saw him yesterday using Maverick on Clubhouse, he made a random hole and got two or three kills. So, if your play style is what makes you pick Ash, I don't think the ACOG change matters at all. This change matters more in ranked than in competitive. About Glaz, I think that the change is really good. I don't know if it's going to make a big difference, you won't be able to use the "Liquid Rush", where you smoke everything up and rush with Glaz, but on the other hand you can still smoke things up and have someone else running in while is covered by Glaz. Capitão scares me a lot. There are some places now where, if the damage model stays as what we have seen so far in the trailers, you should be able to burn some zones and push defenders far back.
For the first time we've had Devmarta on the analysts desk. We also had Milosh as Desk Host. Do you think it's been a step forward for APAC in general?
I think we can safely say that this is probably the "APAC event". We have an australian map coming out, we had Dev on the desk, we have NORA-Rengo and Fnatic doing really well and we will see one of them on the semi-finals, so I think that they are catching up now. Maybe last year was when the things changed and the community actually started to have respect and believing that they were capable of doing that, because from a community perspective there's been a lot of "they are not there yet", "they are too far behind", "the meta is different". Even skill wise, which if we go back to the 2018 Invitational, the fact that anyone doubted skill now is ridiculous looking now at someone like Wokka, who is a beast in anything he does. The only thing that is truly holding them back so far is that their pool of scrim, the practice that they can get, is more limited. But they are going to catch up, they are bootcamping, some of G2 said that they "created a beast" when they were scrimming NORA-Rengo for a week straight, so give people with absolutely insane aim European or NA meta style of play and then everyone will want to avoid facing them.
Any sort of hopes for the coming year?
I don't know even know what to hope for anymore, because every time we expect something I feel like we always go some steps further to that, I wouldn't have thought that this even was going to be as big as it's been, so I don't really even want to speculate about what could come or even start to think what I want. Cause if it has to live up to what we have seen so far it would be ridiculously big.
Do you have anything to say to your fans or the people in general?
Sure. Well, beard, never shave it. That's the magic trick. For the fans, thank you so much. And for the rest of the community, I'm just happy that everybody is enjoying Siege and I'm really excited for Year 4. The roadmap is the best we have seen ever.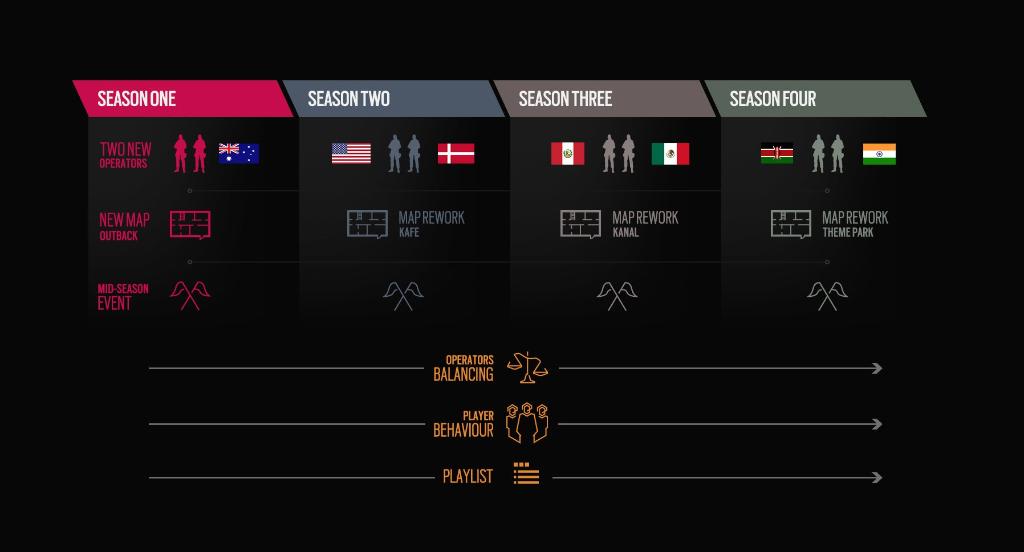 Z1ronic has not been announced for any other event yet, however, as we have stated before, he has participated in ever PL Major event since the Six Invitational 2018. It would be a big surprise to not see him in the near future. For more interviews and Pro League coverage keep an eye out right here at SiegeGG.