This series aims to highlight the best and most interesting games of all the lower leagues in competitive Siege, from the BR6 national league to the German Saturday League, to ensure you don't miss the best action going on at all levels of play.
Brasileirão 2019 - Team Liquid vs Black Dragons
Last week during week 9 of the Pro League, Team Liquid faced off against Black Dragons in a thrilling matchup. Despite Liquid's stature as the most successful team in the region, Black Dragon's very almost won before eventually falling in a 5-7 scoreline. However, they will now have their chance to get their revenge as they face off across two maps in the BR6 championship this Sunday, with both teams pushing to get to the top of the league table.
Black Dragons currently sit in fourth place, just inside the playoff positions. With both Ninjas in Pyjamas and Immortals not more than two points off, it is crucial they use this chance to create a cushion to ensure an easier route to qualification. Team Liquid, meanwhile, sit near the top of the table, just one point off of FaZe Clan in first. After last season, though, where late-season blunders meant they missed out on the largest national event in R6 history, they won't be taking this game lightly and will want to reproduce their Pro League victory we saw last week.
While there is also another Pro League level matchup this week in the BR6 -- paiN Gaming vs ReD DevilS e-Sports -- the Liquid vs Black Dragons matchup has what it takes to be a truly thrilling game and so should be a must-watch for all R6 fans.
Magyar Nemzeti E-sport Bajnokság: Season 1 - Playoffs
This mouthful of a league, usually shortened to MNEB, acts as the Hungarian national league in which eight all-Hungarian teams have played in a double round-robin format every Friday and Saturday since mid-January. Now, the second to sixth-placed teams will play in a playoff to determine which roster will join the league leaders of WiLD MultiGaming at the LAN Finals in April to fight for the top share of the $11k prize pool.
While this is the first Hungarian tournament to have an actual LAN event with a pretty large prize pool, the two most successful and well-known Hungarian players of Balázs "blas" Kővári and Ferenc "SirBoss" Mérész will not be attending. Both these players currently play in the Pro League on PENTA, meaning that their Pro League games on Friday nights would clash with the MNEB's schedule.
Nevertheless, the league leaders of WiLD MultiGaming have previously shown their worth in the T3H eSports Premier League, where they defeated the core of the current Team Empire roster. Regardless of the other teams' lack of international stature, the online season shows that these games will be incredibly tight as no team wants to go out before the LAN Finals in Budapest.
This league is another example of how national and local leagues can introduce literally hundreds of players into competitive tournaments to grow the nation, region and, ultimately, R6 as a whole. These playoffs and the subsequent Finals should be a good competition to watch despite it being well below the pro-level quality when they kick off on Saturday at 7pm UTC on the esporthutv Twitch channel
Challenger League: North America - Susquehanna Soniqs vs Organized Chaos
Next comes a more traditional matchup between the two favourites for the North American Challenger League title this season. The Soniqs, previously known as Elephant Gang, and the newcomers of Organised Chaos both come into this matchup undefeated, each with three wins and a draw, and both already sit three points ahead of their nearest rivals -- Elevate. OC currently sits ahead in first thanks to a round difference of +13 compared to +11 for Soniqs, however, the team that will ultimately clinch the first place position is very likely to be decided in this matchup.
For their second games of the day, the Soniqs then play against third-placed Elevate while OC plays fourth-placed Tune 6quad. Should either roster have a particularly bad day, either team could fall all the way down to fourth place. While somewhat unlikely, this shows how important this game is to the teams as they aim to consolidate themselves at the top of the Challenger League, and guarantee themselves an easier Challenger League playoff match to ensure that they make it to the Pro League playoffs.
Campeonato Mexicano Season 1 - Anáhuac Esports vs Atheris
Finally, we have one of the biggest matchups of the eight-month-long Mexican Nationals online season, as the second and third-placed teams face off in a best-of-two series. In their first game of the season, Anáhuac (then known as Lyon Gaming) took home a somewhat convincing victory, but Atheris has gone undefeated in this league since mid-November and has been slowly catching up to the league leaders.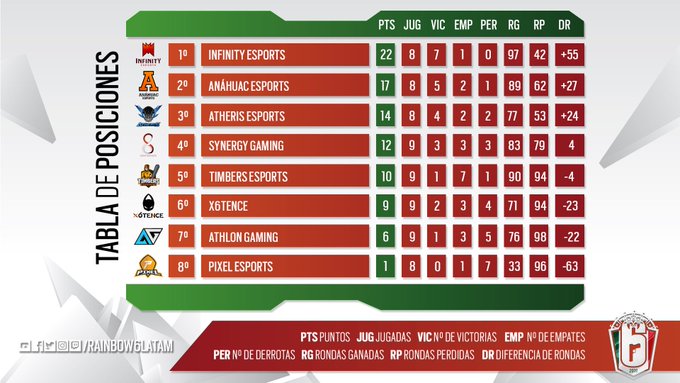 While both teams are likely going to be going to the LAN Finals to fight for the US$26k prize pool, the result this week will be a very clear indication on who is most likely to take make it all the way to the grand finals. If Anáhuac can repeat their 2-0 victory, they will join Infinity Esports, the league leaders, as the clear favourites for the title, while both Synergy Gaming and Timbers Esports may make Atheris' route to the LAN much harder as they will likely push to within just two points of each other.
The games will be broadcast on Saturday evening on the rainbow6LATAM Twitch channel. To learn more about this league, check out our interview with one of its four casters, Alejandro "Romeo" Déleon, right here.
---
So these are the biggest and most interesting matchups this coming week across the secondary-level tournaments around the world. Keep an eye out for more SiegeGG coverage of all levels of Rainbow Six as the Pro League, MNEB, and everything in between all heats up as we near the end of Season 9.