This series aims to highlight the best and most interesting games of all the lower leagues in competitive Siege, from the BR6 national league to the German Saturday League to ensure you don't miss the best action going on at all levels of play.
Brasileirão 2019 - FaZe vs Immortals
The Brazilian National league contains all eight of the Latin American Pro League teams who compete in bi-weekly LAN games every Sunday on the rainbow6br Twitch account. The level of production alone makes this a must-watch league, and with Season 8's top LATAM teams facing off this week, now's an excellent opportunity to tune into the BR6.
The format itself is easily one of the most confusing formats in the world as teams play a best-of-two map game and earn either:
Three points for two maps won

Two points for a win and a draw

One point for a draw in both maps

One point for a win each
This can create some weird looking standings as a 1-0 victory is worth less than a 2-0 victory but is just listed as a single game won on the standings leaderboard. Despite this, once you wrap your head around it, this is a very good format to reward every single result and ensure that draws matter. Ultimately this makes the current standings during the 2019 season of the BR6 as below: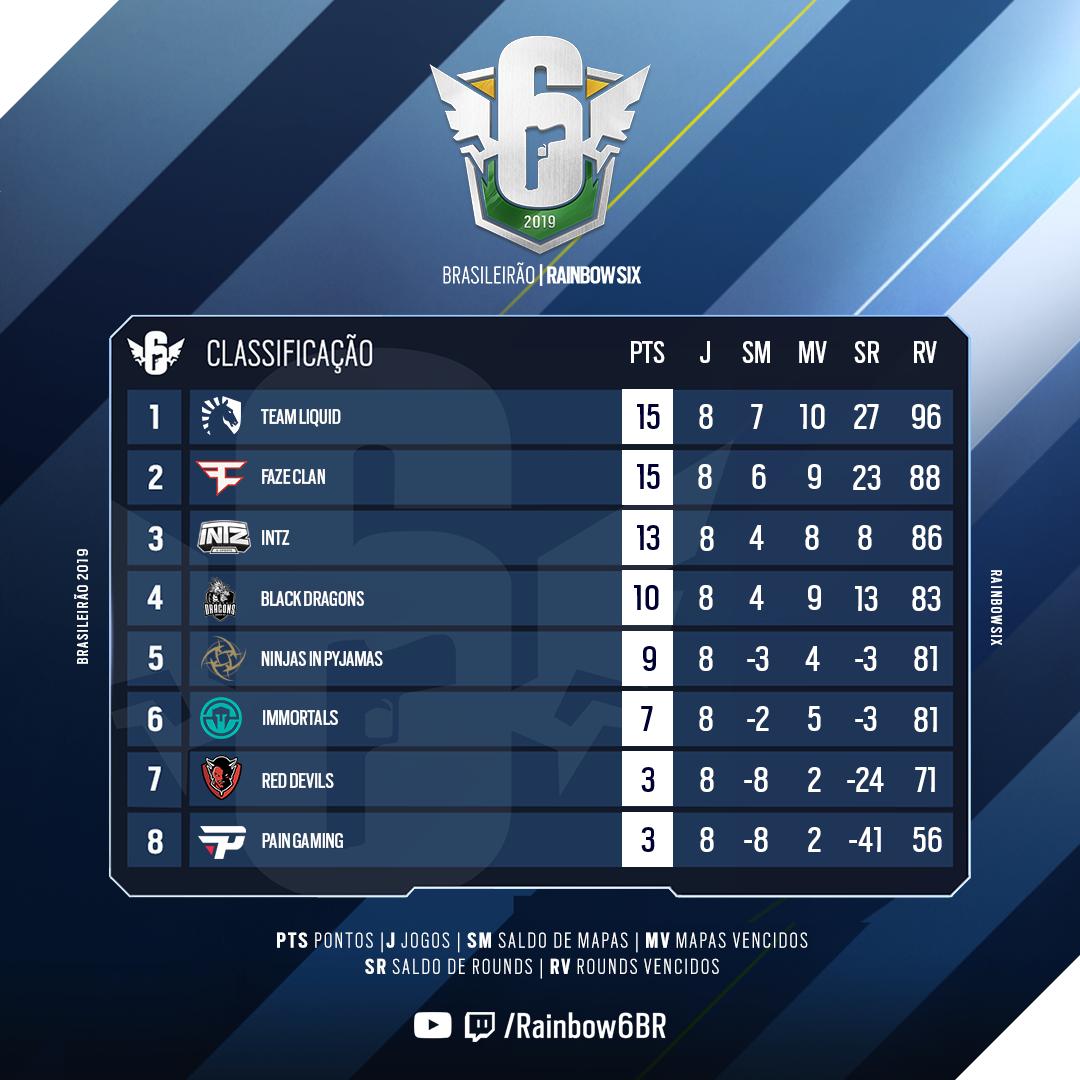 This week we see two matchups in FaZe Clan vs Immortals and Ninjas in Pyjamas vs INTZ e-Sports Club. While both these games are clearly Pro League tier, the first of the two includes the first and third-placed teams in the Pro League, making this one of the very best R6 games this week. While Immortals clearly struggles in a LAN environment, sitting down in sixth place, this still should be a close matchup as IMT recently took down NiP in their last matchup, while FaZe lost 2-0 against Black Dragons shortly after the Six Invitational. Either team could win this, and regardless of who takes the points, it should be a top-level matchup and so this week's must-watch lower-league game.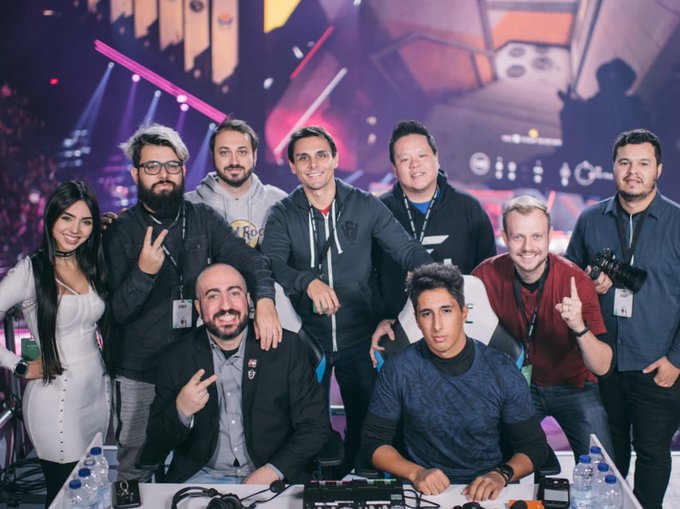 Challenger League: North America - Vicious Gaming vs Organised Chaos
The undefeated and technical leaders of the North American Challenger League, Organized Chaos, play against the wildcard roster of Vicious Gaming this week, which should definitely be a match to watch.
Organised Chaos has come into this season of both the Challenger League and CCS as an unstoppable force as, over the last two months, they have only dropped maps to the Pro League team of Team Reciprocity. Vicious Gaming, meanwhile, comes in as an extremely mixed team as they defeated the favourites to win the Challenger League, Susquehanna Soniqs (then known as Elephant Gang), in the Six Invitational qualifiers, but were then crushed by Tune 6quad 7-1 in the CCS qualifiers. As such, you can never predict what Vicious will do or how they will perform, making their games just a bit more exciting.
In the context of the Challenger League, these teams sit in first and fourth place in the league after just one play day (of seven), meaning that matchups such as this will be an excellent indication of what kind of standings we could expect nearer to the end of the season, and possibly which teams we could see during Season 10 of the Pro League.
One thing that might tip the balance is the recent changes to both rosters over the last few days. Organised Chaos announced, in a somewhat surprising move, that they had acquired the ex-Pro League player of Gurman "GurmyWormy" Bains. He was best known for his appearance at the Season 5 Finals while on eXcellence Gaming, and his less-than-stellar season on Obey Alliance a year ago, while Vicious Gaming lost their own Obey Alliance alumni in their coach, Trevor "Kenz" Kenzie as he retired from R6 following difficulties with the Vicious Gaming organisation.
CCS Season 4: Europe - Supremacy vs ex-NYYRIKKI
On Wednesday, the third and fourth placed teams in the EU Challenger League will face off in the CCS league as they both aim to either earn or retain their playoff position ahead of their Challenger League matchup next Monday.
The ex-Pro League roster of Supremacy has been in this league since the beginning of the season and currently sits in third place. On the other hand, ex-NYYRIKKI, best known for their star-player of Otto "pannari" Heikkinen, recently joined the league to replace Team Empire and as such are down in sixth-place, desperately needing victories with just two games remaining -- one of which is against the league leaders of XTreme Video Esports.
While many games which involve two Challenger League teams in CCS aren't taken completely seriously as teams aim to hide strategies for the more important matchups, a victory here is vital for both teams to ensure a CCS playoff position and a shot at the $10,000 prize pool. This should make this a top-level matchup between two teams currently sitting in the top ten in Europe and the best CCS matchup this week.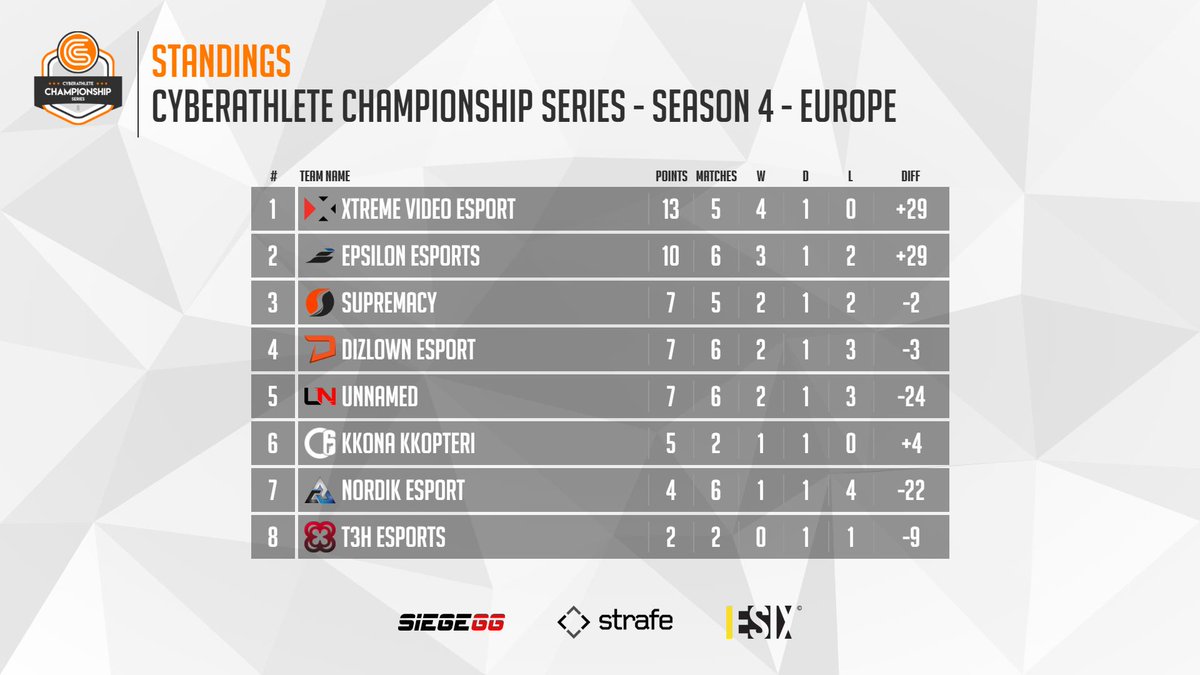 Whoever wins this matchup will likely guarantee themselves a spot in the CCS playoffs next month, making them the joint-favourites with XTreme Video Esports to take the title and the $5,000 winnings. For either team, this would be a major accomplishment -- Supremacy as recovering giant, or ex-NYYRIKKI as the rising superstars.

DreamHack Rio 2019 Female Qualifiers - Brazilian Crusaders vs ReD DevilS e-Sports Female
Finally, we have the final day of the DreamHack Rio Female qualifiers to find the two all-female teams that will join FaZe Clan, Team Liquid, Immortals, Black Dragons e-Sports and two BYOC (Bring Your Own Computer) teams at the first regional R6 DreamHack tournament since Season 2 of the Nordic Championships in November 2017.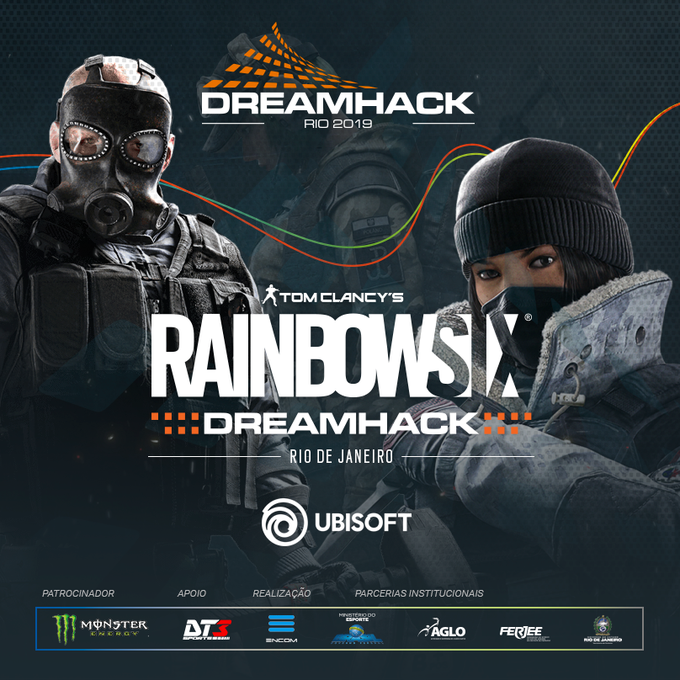 This DreamHack tournament doesn't offer the victor a spot at the Major as many have in the past, but would still be the second largest LAN in Latin America in 2019. This puts it just behind the BR6 Finals in July in size, making it a huge opportunity for all those teams and players involved. Other than being a massive event in its own right, this is also notable as the first tournament ever to be forced to be mixed-gendered, with dedicated spots for all-female teams -- something that has already proven to be a very controversial idea.
There have been a number of all-female tournaments in Brazil -- something that's seemingly unique to the region -- however there has never been a notable tournament which involved both male and female teams competing against each other. Tonight we'll find out which female teams will be playing in this tournament as the final few stages of the best-of-one map swiss qualifier take place, streamed by community casters.
While the favourites of the Brazilian Crusaders are very likely to clinch first place, it will be interesting to see who will be joining them and four of the best teams in the world at the event. Tonight, the contenders of ReD DevilS e-Sports Female, Celestial Wolves Gaming, and Athena's e-Sports all play their remaining three maps to decide who's going to the biggest stage in LATAM. While the final two rounds are currently undetermined, the initial matchup of Brazilian Crusaders vs ReD DevilS e-Sports Female should be one of the top games of the entire qualifier, as it is a repeat of the Game XP LAN Finals matchup -- the largest all-female tournament in Siege history.
"Women's Line of Rainbow Six Siege... Congratulations for the excellent performance in their first tournament, unfortunately, we do not get the results but we fight to the end, and in the next circuit we will reach much stronger and more confident... Thank you to everyone who attended."
---
And so they are the biggest and best matchups this coming week across the sub-Pro League tournaments around the world. Keep an eye out for more SiegeGG coverage of all levels of R6 as the Pro League, Challenger League, and CCS all heat up.