Image via Ubisoft/@Kirill_Vision
With Oxygen and Astralis qualified for the Six Charlotte Major playoffs, six spots remain for 12 teams to fight over.
Group A
There are two games remaining in Group A as Team oNe and Dire Wolves fight to join Oxygen in the top eight.
If Team oNe beats Dire Wolves in their final game of the groups then oNe qualifies. Even if Dire Wolves win, they then also need to gain all three points against Oxygen and overcome a net -10 round difference across the two games to take second place.
A Dire Wolves comeback now would be a remarkable achievement and extremely unlikely to happen.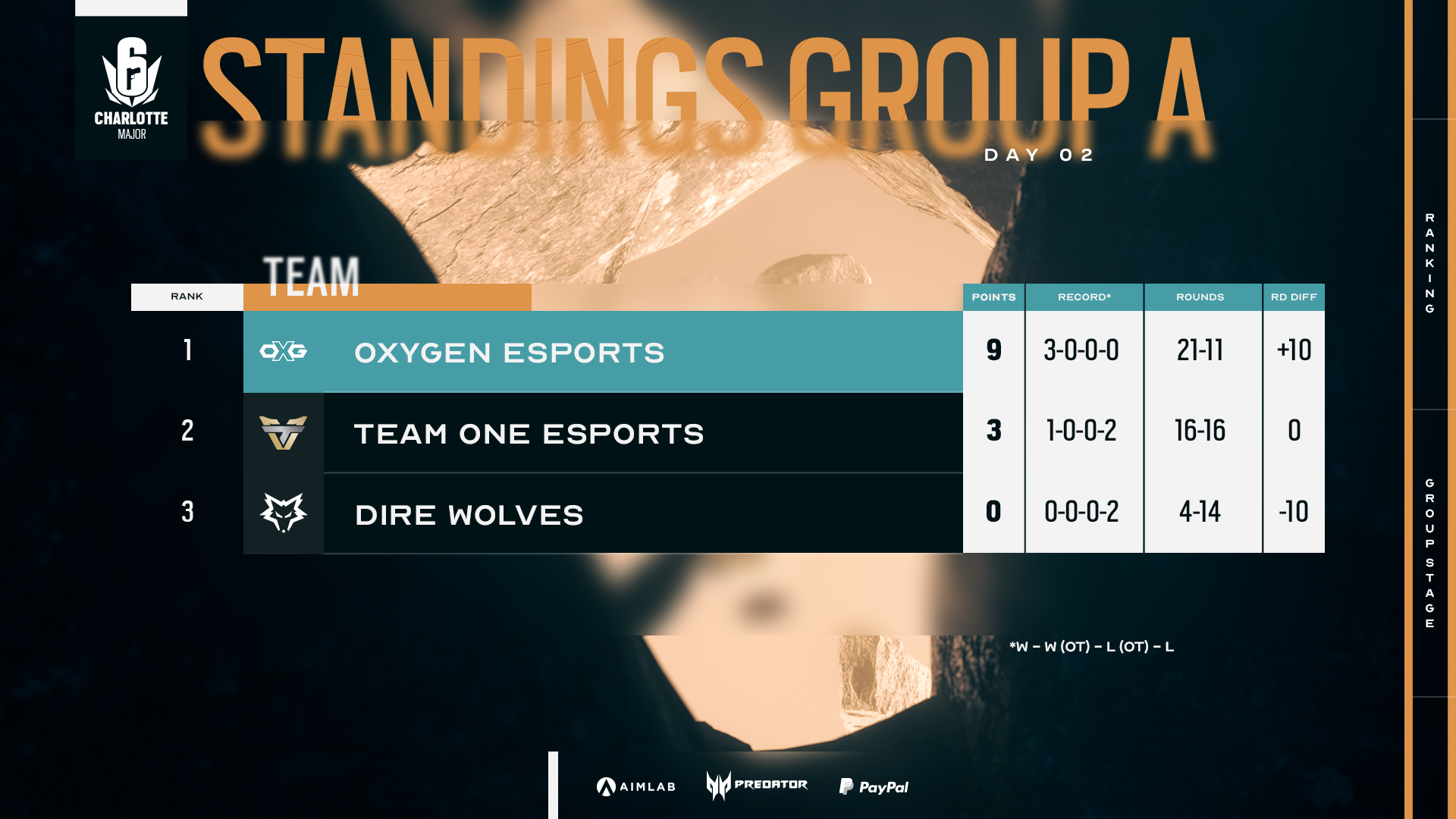 Group B
All four teams in Group B can still make it to the playoffs if they have a good performance on Wednesday.
For Team Liquid to qualify they simply need to beat either XSET or FURIA. This will put them on at least 11 points which is well out of reach of CAG and the team which they beat. Their first game is against XSET at 1:20 pm ET.
XSET and FURIA, meanwhile, are in identical situations as they sit on six points and play both Liquid and CAG tomorrow. It is likely that they simply need to outperform each other to guarantee a top-two finish with XSET having a plus-three round difference advantage.
Should both teams beat Liquid in regulation time, however, then a single point from CAG would send either team into the playoffs. If both beat Liquid in overtime then three points from CAG would create a three-way tie on 11 points. One overtime and one regulation win means two points from CAG is needed.
Finally, CAG needs to win both of their games. CAG winning them in overtime means FURIA or XSET winning just one point to Liquid would create a tied scenario while any Liquid loss would mean CAG is out. CAG winning the games in regulation time means unless Liquid drops all three points in one of their games, CAG is through.
Finally, we have the chaos scenario. If CAG wins both their matches and Liquid loses both of theirs, both of which are pretty unlikely, the group will end with a four-way tie on nine points with all four teams having similar round differences. The outcome of a tiebreaker is impossible to predict.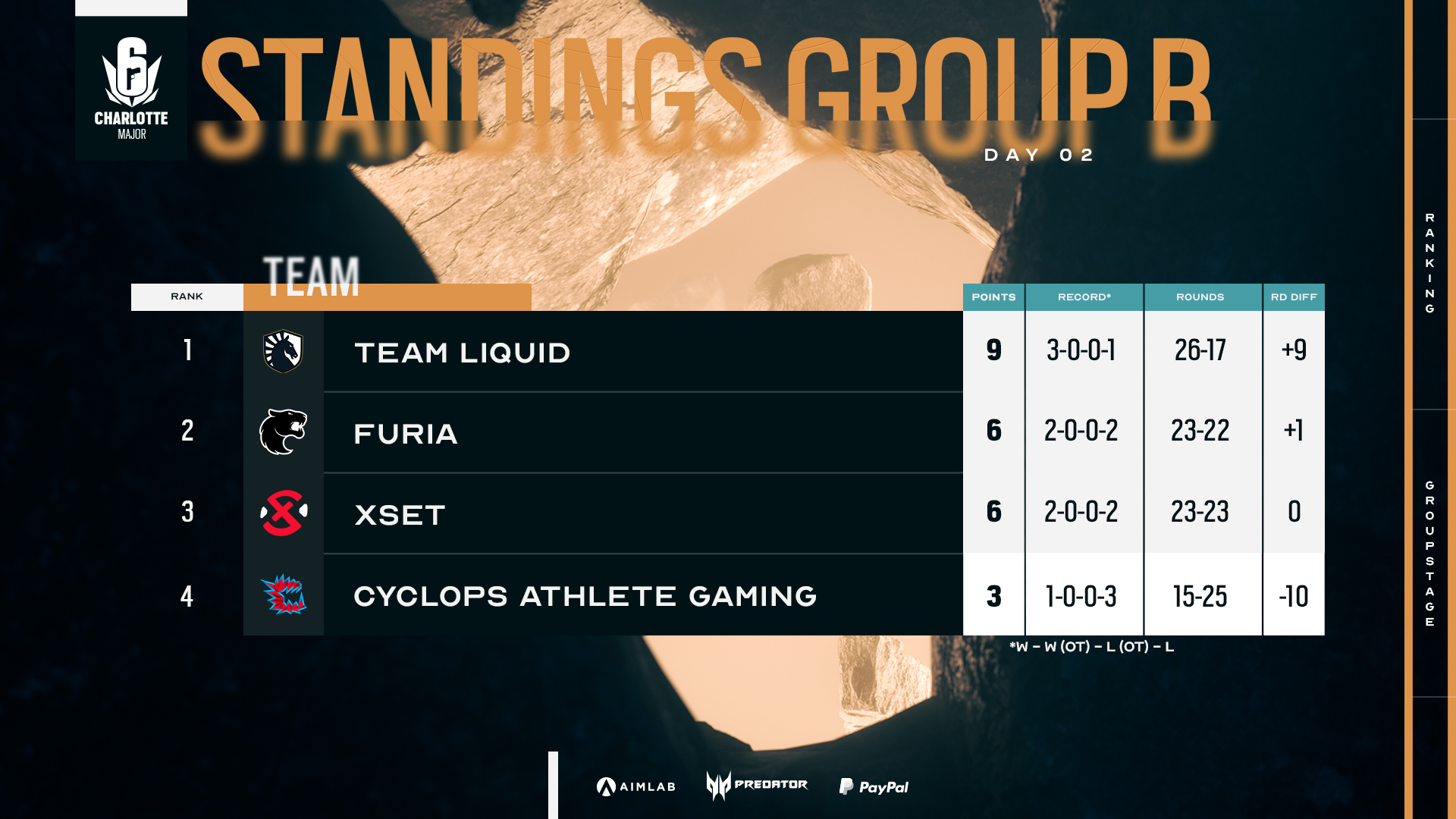 Group C
DarkZero needs just two points against Heroic and G2 to guarantee a playoff spot. Even if they get zero, it is fairly likely they are still safe unless w7m or Heroic are able to get two very strong wins.
G2's target is three points, meanwhile, as they play DarkZero and w7m. Alternatively, just two points against w7m would be enough as that'll put them on 10 points while w7m can end with a maximum of eight and Heroic can get nine total.
It's also possible that G2 will qualify before they even play next as if Heroic gets all three points against w7m but then lose to DarkZero -- both of which happened this week already -- then neither team can beat G2's current tally of eight points.
For w7m, they, in effect, need to beat G2 and hope other results go their way. A full three-point result means they need to get more points against w7m than G2 gets against DZ to match their overall count. If they beat G2 in overtime then they need all three from Heroic and for DZ to get three from G2.
Finally, Heroic needs to get all six points against DZ and w7m and hope that G2 doesn't beat DZ in overtime. If DZ beats G2, then G2 also needs to lose against w7m. This is an incredibly unlikely result.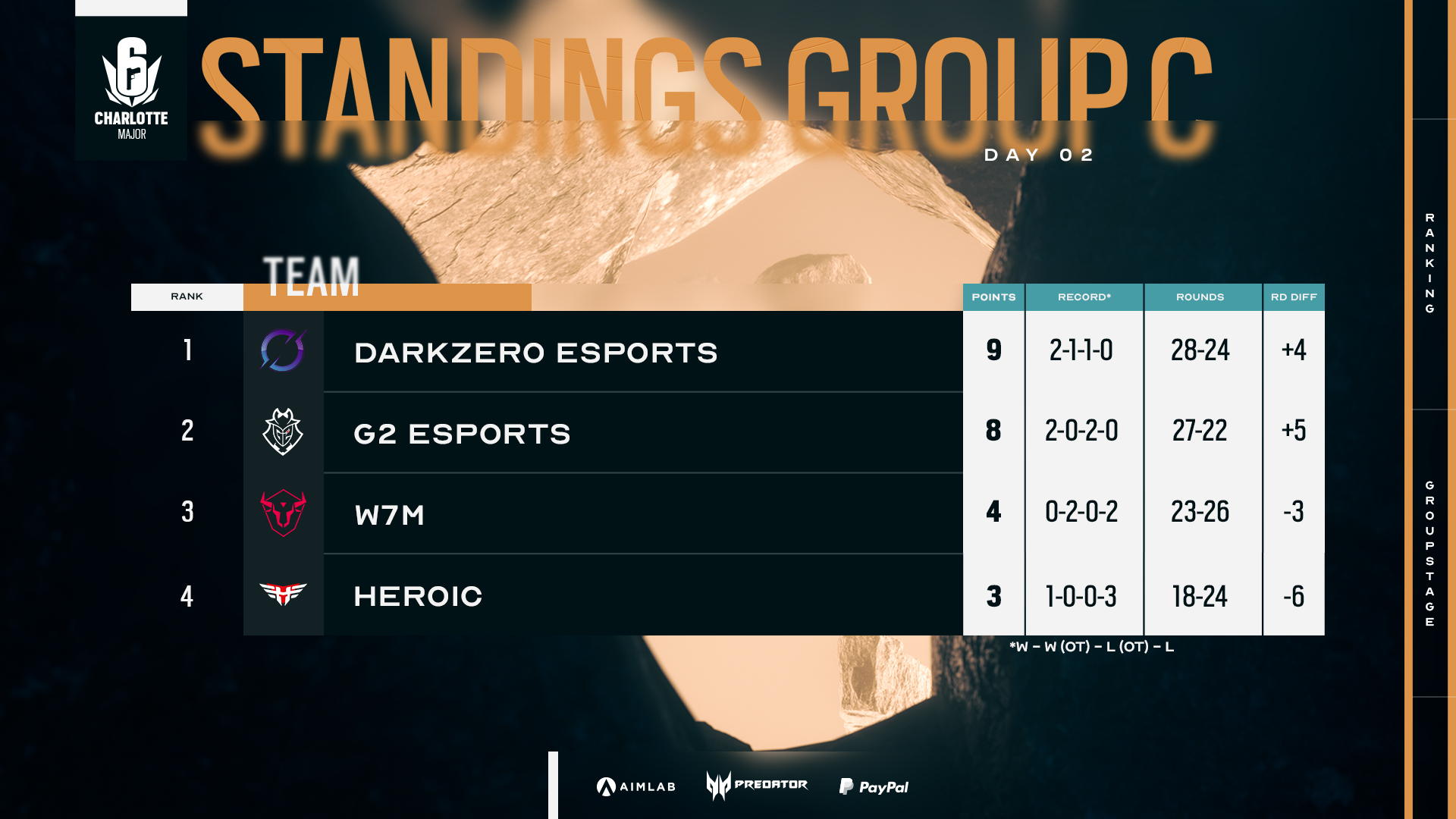 Group D
Finally, in Group D, Astralis is through, while Chiefs are out, leaving BDS and Wolves to fight for the final spot. The two teams have nine and four points respectively and face each other at 11:50 ET.
If BDS gets a single point against Wolves or two against Astralis then they qualify. Wolves meanwhile need all six points from their games versus BDS and Chiefs and hope that BDS fails to earn any against Astralis.
While overcoming a five-point gap seems unlikely, it is possible as on day one BDS lost to Astralis heavily and Wolves beat the Chiefs. Should this happen again then the head-to-head between the French squads would decide it with overtime giving the game to BDS.