UPDATE: G2 Esports has pulled out, Team Instinct has been brought in as a replacement.
What is CCS?
The Cyberathlete Championship Series, better know as CCS is an independent organization that specializes in Rainbow 6 Siege competition. The company opened its doors in 2017 and continues to grow in both viewership and prize money ever since.
Who is in Season 4?
Here's the list of teams participating in Season 4 of CCS.
North America:
Cloud9
Roster: Goddess, Retro, LaXInG, MarkTheShark, FoxA
Cloud9 are well known in the competitive Siege scene, being a Pro League team, and will be aiming to add a second trophy to its cabinet after winning at DreamHack Montreal.
Rise Nation

Roster: Beastly, vandal, Hyper, England, GhxsT
Most recently having played for mousesports, the roster has moved to the Rise Nation organisation. However, with the change they have also had to part ways with their coach which could impact them greatly, but they will be sure to press on regardless.
ex-Noble esports

Roster: Yeti, Acid, Krazy, zz, Bryan
Noble esports most recently survived relegation against Elephant Gang in the Pro League, and have since left the organisation. They are sure to be playing to prove a point and hopefully attract a strong organisation to represent.
Altis Police Department

Roster: Yogga, E-X-0, Beaulo, Sweater, Dot
While not a famous name, the duo of Dot and Yoggah were part of the Disrupt Gaming roster that famously defeated Evil Geniuses 2-0 at DreamHack Austin. The squad was also the CCS Season 3 winner for North America and, with the addition of Sternab as coach, will be looking to defend their title this season.
Yellow on Ash

Roster: Yellow, CookieZ, awD, Oasis, HolidayNOG
Yellow on Ash are named after their ex-Pro League player of Yellow, who is joined by another ex-Pro League player, CookieZ. The duo have a great amount of experience and will be looking to make their mark.

SiNister Academy

Roster: Rooty, aviation, Sippin, Smurfn, Detox
While SiNister is a well known organisation, their Academy players are less so. The five of them will look to make a name for themselves, and hopefully prove a stiff challenge against the more experienced sides.
Team Revenant
Roster: Sharsh, BBrelyT, Fultz, Phish, wrath
Another somewhat-new team on the scene, they will be hoping to secure a strong finish in the season with many positives on offer for a team like them.
Orgless

Roster: Jytus, cancan, Mort, Alpacka, jolly
Orgless are both devoid of an organisation and renown, but have the Season 2 Pro League player Jytus amongst their ranks.
Europe:
Team Empire

Roster: JoyStiCK, Shockwave, ShepparD, karzheka, Scyther
Newly promoted to the Pro League, Empire most recently faced G2 Esports in the semi-final of DreamHack Winter, losing by a heavy margin. They are still a team to be feared, however, with the strong fragging power of JoyStiCk leading the way.
Team Vitality
Roster: ZephiR, Spark, BriD, aPPROX, Quaal
Unfortunately having to suffer the ignominy of relegation in Season 8 of the Pro League, Team Vitality will be looking to prove they still have what it takes to face off against the best in Europe. They have seemingly made a change, with Quaal in place of RaFaLe, but nothing has been confirmed outside of CCS.
La Rascasse
Roster: Liven, Renshiro, Joghurtzz, Falko, Voy
With three members of the Pro League Season 8 Millenium squad, and a fourth ex-member on-board, the La Rascasse squad will be going all-out to prove that they are still a top-three EU roster.
Supremacy

Roster: Djuz, AnThraX, KSiiX, Tactiss, Alive

Supremacy is another team that unfortunately suffered relegation in Season 8 of the Pro League. In CCS, though, they will be hoping that they are able to perform better than before and salvage something from the latter half of 2018.
DeathroW

Roster: SinShinrO, sTr0nG, Shiinka, Lion, TSumed
A well-known organisation, but not a well-known roster, DeathroW will be going up against some of the best Europe has to offer, and will have to fight hard to finish in a respectable position.
Unnamed

Roster: TankNinjaz, Kendrew, Kaktus, Meadzz, Jugger, Noera

Featuring two ex-Pro League players in TankNinjaz and Jugger, Unnamed are in somewhat dire straits, having been unable to find a fifth. Nevertheless, once they do, they are going to try and make a mark for themselves for future glory.
Epsilon Esports

Roster: Fippsi, pX, Shermi, Blurr, m1loN
Having once represented in the Pro League, Epsilon Esports made a return to Rainbow Six a few months prior and will now be hoping their new roster can prove itself in Season 4 of CCS.
Team Instinct
Roster: PWN3F, Shangri, Rask, mock1ngb1rd, Liswayd
Team Instinct is the newest addition to Season 4, having been invited after G2 Esports had pulled out. Most famous on the roster is PWN3F, who played with Team Empire (then Room Factory) at the 2018 Six Invitational, but left the team shortly after. With his experience, Team Instinct will aim to grab this opportunity with both hands and make the most of it.
What are the prizes?
For the first time in CCS history, each region will have a mammoth $10,000 prize pool. This is a long way from their first-ever $500 prize pool in 2017, and thus makes them the biggest currently-active league in Rainbow Six outside of the Pro League itself -- even bigger than the Challenger League.
The split of the $10,000 is as follows per region:
1st Place: $5,000

2nd Place: $2,500

3rd Place: $1,500

4th Place: $1,000
What's the format?
Each team will play the seven others once over the course of seven weeks in a Best-of-Two series with each map updated to a Best-of-Twelve (7 rounds to win) to mirror the ESL format.
Draws will not be present, but games will be have a three-round overtime instead. Teams will be awarded three points for an outright 2-0 win (a win on both maps), one point for a 1-1 overall draw (each team wins one map) and 0 points for the loss (no maps won).
Playoffs, however, will have unlimited overtime Best-of-Three games. Lion will also be banned from competitive play, and there will be a three-month evaluation period for newly launched operators exactly like in ESL competitions.
Who will be casting?
Established names and new ones will be bringing all the action to us in Season 4, with each region having its own set of casters.
North America:
Rob "Flynn" Flynn

Samuel "Stoax" Stewart

Matthew "Azaraki" Waters

Anton "GolldenFalcon" Lim
Europe: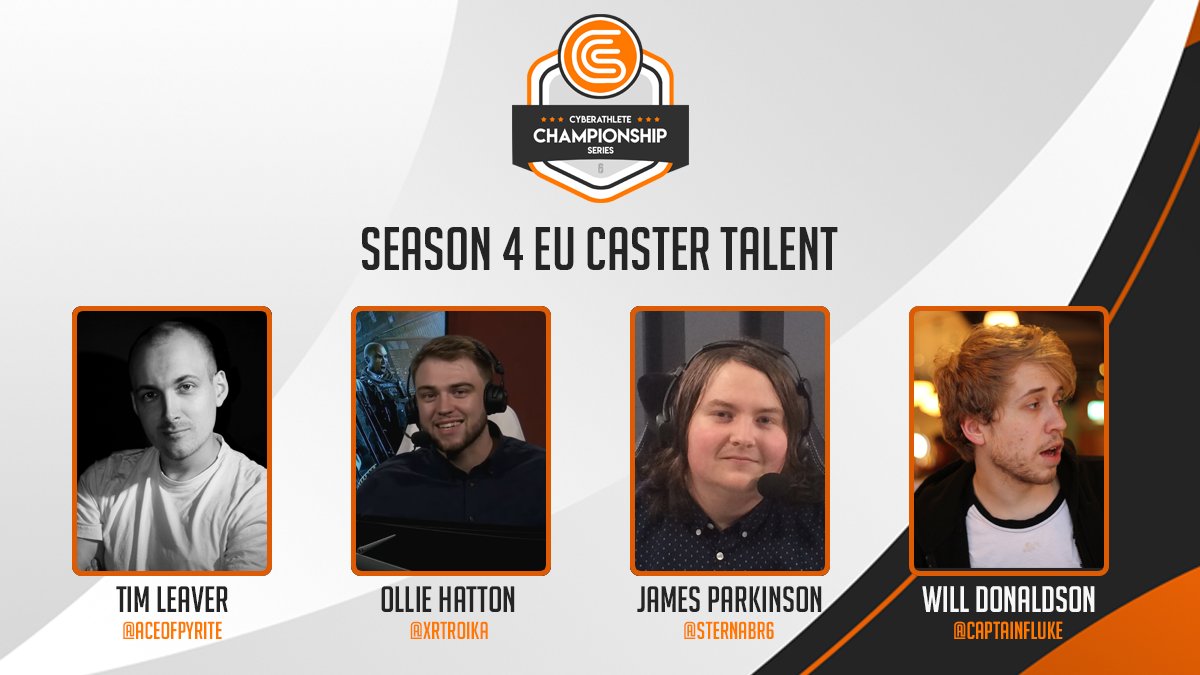 Tim "AceOfPyrite" Leaver

Ollie "XTROIKA" Hatton

James "Sternab" Parkinson

Will "CaptainFluke" Donaldson
When and where to watch?
Season 4 of CCS will run from Dec 03, 2018 until Feb 09, 2019 and will be broadcast on twitch.tv/CCSesports. Catch all the European action on Mondays and Wednesdays, from 7 PM CET onwards, and the North American action on Wednesdays and Fridays from 8 PM ET onwards.