Map: Border
Rogue: Slashug, Geoo, Easilyy, Bryan, Ecl9pse
SK: Hotancold, Mint, EvLWaffle, Pojoman, Jarvis
With the start of Season 8 of the Pro League came the debut of the new 'Pick and Ban' system, with Rogue and SK being the two teams bringing it to our screens. Operator bans went as expected based on what we saw in the Coupe de France two days prior, with SK banning Thermite and Mira, and Rogue banning Blackbeard and Jager.
Mint started things strong on defense with a 2k to thrust SK into the first lead of the game, and Rogue quickly found themselves 2-0 down. However, with the help of Geo and his 9 kills in the first 4 rounds, they would claw their way back to take the lead 3-2.
In the 6th round, Ecl9pse sprung a surprise by using the 6th pick to swap from Maestro to Frost, and secured a 2k in the action phase to help win the round and put Rogue in a commanding position. SK fought back to 4-3, but in the 8th round Rogue ended any possibility of SK taking the 3 points home by winning their Bathroom and Teller defense and going up to 5-3. The Canadian-majority team would push things to a 10th and final round in which Mint utilized his team's 6th pick to change from a Buck to a Blitz. It was a surprising decision that looked like would help them take the tie, but Bryan ended Mint's life with just a minute having elapsed in a turn of events that likely won Rogue the round.
The top seeded NA side from Season 7 would thus end up taking the map, and the game, 6-4 to earn their first 3 points of the season.
Map: Consulate
Noble: Yeti, Krazy, Acid, breezy, Heavy
mouz: Vandal, Beastly, Hyper, Neptunez, VertcL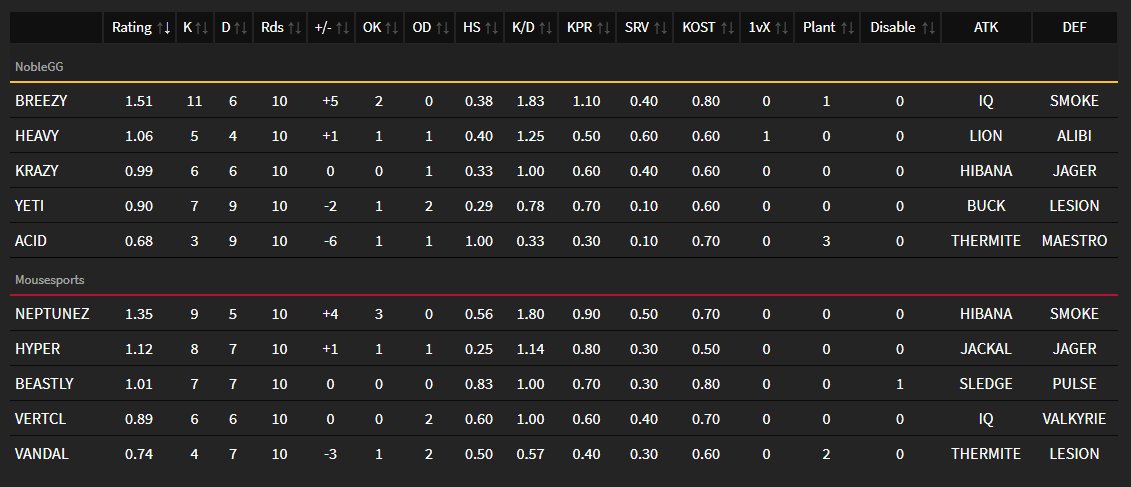 In a matchup with a repeat scoreline of the first, Heavy was the hero for his newly promoted side as they took down mousesports in a closely fought contest. The new operator ban phase saw mouz exclude Glaz and Echo, while Noble went for a Dokkaebi and Mira ban pairing.
The match started off with Noble securing the first round on attack, but that and the next two rounds saw a dogged yellow-stairs push from the side, with Neptunez on Smoke taking down Yeti on Buck all three out of three times with a re-frag only occuring once. Down 1-2 and executing a strategy that mouz seemed to be on top of, it seemed Noble's inexperience was showing.
However, the former Challenger League side forced two rounds in their favour, with the latter on the back of a 3k from the Jackal picked by Yeti -- a curious choice given the compact nature of the map meaning that roam-clearing is easy even without the added Eyenox utility. Mouz answered back in 6th round, but saw the next two slip away as Noble put themselves onto matchpoint at 5-3.
While mouz managed to stave off a loss for another round, a tie was not in the offing. The final round saw Heavy on the Lesion forced off site after being put into a 1v3 scenario, but a clever decision saw him take down the defuser carrier as he rappelled in with just seconds to go and win the game for his side.
Map: Oregon
EG: Canadian, BC, Yung, Necrox, nvK
Obey: GurmyWormy, MahMan, Adam, Skys, Bosco
For the first time in the evening, Mira escaped the ban phase in the match-up between the second and joint-fifth placed sides from Season 7. Instead, EG banned Thatcher and Mute, while Obey removed Glaz and Maestro from play.
The game started off with a lead for the attacking EG, but a good second-floor defence from Obey gave hopes that the fairly new lineup of the latter would pose a strong challenge. However, some great roam-clearing and tight time-management from Evil Geniuses meant that Obey quickly found themselves down 1-3, also not helped by some head-scratching mistakes on their own part.
A repeat of the second-floor defence win meant Obey would put a second round on the board, but it would be their last with their roles switching to attack after that. Evil Geniuses made few mistakes from then on, even securing a defence win on the Rear Stage/Tower bomb site, and took the game 6-2.
Map: Border
SSG: Chala, Redeemer, Shuttle, ThinkinNade, Rampy
C9: Goddess, LaXInG, Shlongii, Retro, FoxA
The newly signed and promoted roster of Cloud9 had a day to forget at their computers. Coming into the game with much confidence for their Pro League debut, they had to endure a whitewashing at the hands of SSG -- a margin of defeat few were expecting.
Curiously, C9 chose to eschew an Echo ban -- a decision that people predicted would come to haunt them later, given Redeemer's incredible prowess on the operator -- and excluded Zofia and Maestro from their game. SSG, on the other hand, banned Glaz and Valkyrie.
Starting off on defence, SSG would only lose one man as they repelled a Montagne-led C9 attack. The next rounds saw multi-kills and clutches from Chala, Redeemer, and Shuttle as they ran rampant against a seemingly lost C9 side to put themselves up 4 rounds to 0. The final round before half-time finally saw an encouraging push from C9, as they secured a 4 vs 2 man-advantage for themselves, but it was thrown away after an overly aggressive push into the site by defuser carrier FoxA saw Redeemer and ThinkinNade clutch things out.
The final round fared no better for C9, as it came down to Retro to clutch a nigh-impossible 1 vs 3 scenario. SSG thus rounded things off with a perfect start to their season, and now see themselves sit atop the league table.
---
Catch the next round of North American games on the 2nd of July on the main Rainbow Six Twitch and YouTube channels from 8PM EDT. To see all the upcoming games' schedules, go to our Matches page, and check out completed games' stats by clicking on the individual games.