After a 2020 that has been little else but disappointment for Wildcard Gaming, the team has finally made changes, dropping longtime players Daniel "NeophyteR" An and Brandon "Derpeh" Carr in favour of Jonathan "Gio" Lanciana from Elevate (formerly Onyxian 2.0) and Patrick "Thumbnail" Wines from Kanga Esports.
To know more about the move, SiegeGG spoke to one of the Wildcard coaches, Bharath "Fluxx" Sukesh:
Your team has been having a tough time this season and the Invitational was no different. What has been wrong?
We've had a disappointing split and Invitational. We knew coming into the event with the way the team was we'd struggle, because we weren't anywhere near our A-game. We've had a fair bit of communication issues and some other issues which just snowballed from there onwards. But, in saying that, these things have happened to the best teams and it's all about taking a step back and learning from our mistakes.
How do you think letting Neophyter and Derpeh go in favour of Gio and Thumbnail will shake things up? Will there be role swaps?
The statistics for Wildcard Gaming's players, new and old, from this season of the Pro League so far.

I think we've needed more vocality across the team for a while now and Gio and Thumbnail give us exactly that. They both have a great understanding of the game, and Siege's current meta demands that from players. As for role swaps, there won't be huge role changes, but it's too early to tell. Gio and Thumbnail are both smart, flexible players and I'm really keen for the future.
What are the goals for your team now and when do you think you can achieve them?
The odds aren't in our favour for the rest of Season 11, but we are playing the long game. We're taking our time with integrating Gio and Thumbnail and we don't want to take any shortcuts. Going to our first major has only made us hungrier, we want to make it to more majors, especially SI2021.
Derpeh had first come onto the scene in the ANZ Cup 2018 on Athletico Esports, the team that would eventually become the modern-day Wildcard Gaming. Then, playing alongside a NeophyteR that had already been on the team and had played in Season 6 of the Pro League as well as the Six Invitational 2018 qualifiers.
Season 7 saw the two part ways, however, with NeophyteR headed over to Mindfreak -- now Fnatic -- while Derpeh began helping his team slowly build up to the position it achieved at the end of Season 10. Third place in ANZ in Season 7 translated into a qualifier LAN appearance for the Six Major Paris, and then a fully--fledged APAC Finals appearance after topping the subregion in Season 8. However, success would take a long time to come, as would the team's first win on the APAC stage.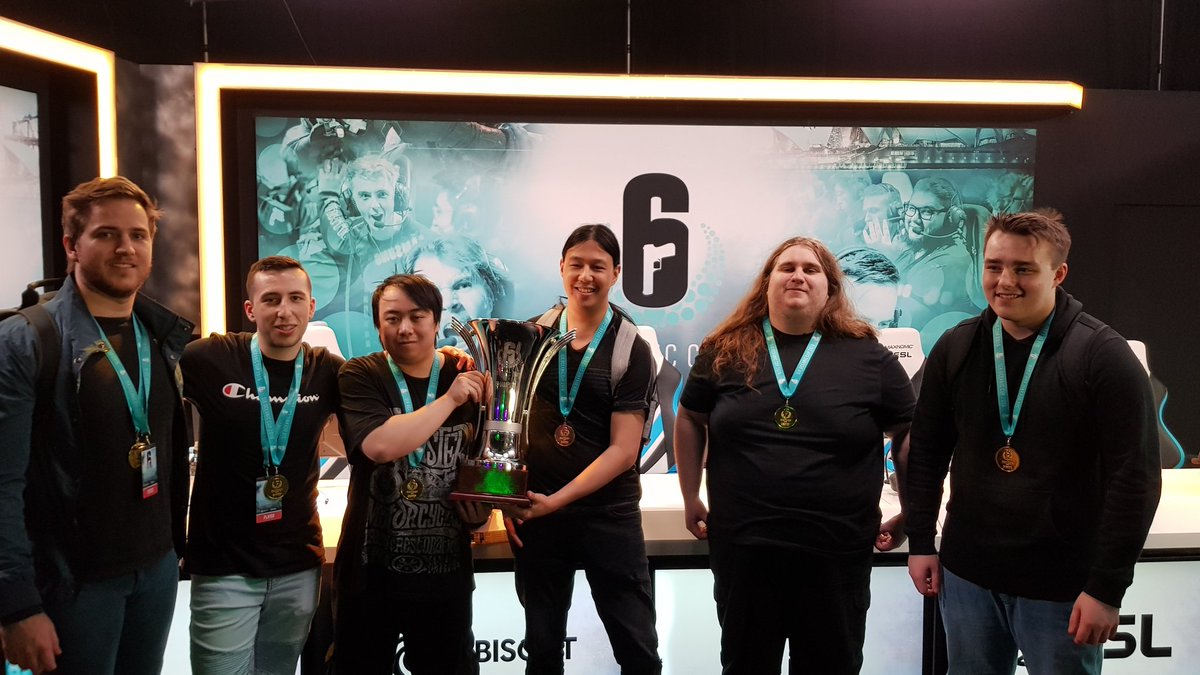 After leaving Athletico, the now-0RGL3SS roster would begin a long nine months that would see it consistently attend APAC Finals and APAC Qualifier LANs but never qualifying for an international event. Domestic success was finally found for the team in the Six Oceanic Cup, however, with 0RGL3SS securing a much-needed win over its bigger brother, Fnatic. Finally, though, 0RGL3SS began to break through.
NeophyteR returned to 0RGL3SS and immediately had an impact, helping the team to finally win an APAC game at the Six Major Raleigh Qualifier LAN against a struggling Cloud9. This growing momentum was finally realised in Season 10, helped along by a mid-season signing with Wildcard Gaming. At the APAC Finals, Xavier Esports (now Qconfirm) first fell, and an in-game crash gave a second chance to the Australians against Cyclops Athlete Gaming and Wildcard had finally arrived on the global stage.
At the Season 10 Finals, Wildcard had been within one round of beating eventual champions Natus Vincere, but could not hang on. Nevertheless, the future had seemed bright for the team. Unfortunately, that momentum came to a crashing halt in 2020. So far in Season 11, the team has only been able to scrape together 12 points from three wins and three draws across eight maps played. Going to the Six Invitational, Wildcard exited with a grand total of 10 rounds won across four maps played and now makes a seemingly much-needed pair of changes.
On paper, the addition of Gio is a great move. Rated ninth-best in ANZ so far this season, he has been primarily playing Buck and Valkyrie and has the third-highest headshot percentage in the league at 68%. Thumbnail, on the other hand, is a more curious signing, having only had a rating of 0.81 so far, with a 12% survival rate and a 0.53 KOST, and is thus rated the sixth-lowest in the league.
For comparison, NeophyteR has been the 12th-best player in the league and Derpeh the 22nd-best, and the two were in fact the top two players for the team at both the global and APAC Finals in Season 10. As such, it is evident that the issues go further than performance, but Wildcard will still have a lot of work to do to return back to the upward trajectory it was on.
Catch this new Wildcard Gaming roster first in action on the 19th of March when it squares off against Elevate:
Ethan "Ethan" Picard

Kyle "Diesel" Renton

Tien "EmoRin" Lam

Jonathan "Gio" Lanciana

Patrick "Thumbnail" Wines

Vinnie "syliX" Tam (Coach)

Bharath "Fluxx" Sukesh (Coach)