Missed the action on Day Five of the Six Invitational 2020? Fret not, check out a complete list of the score lines here and read on for a brief summary of all the action seen on the fourth day of the fourth Six Invitational below as four teams fought to remain in the tournament while four more fought to make it to the winners' finals.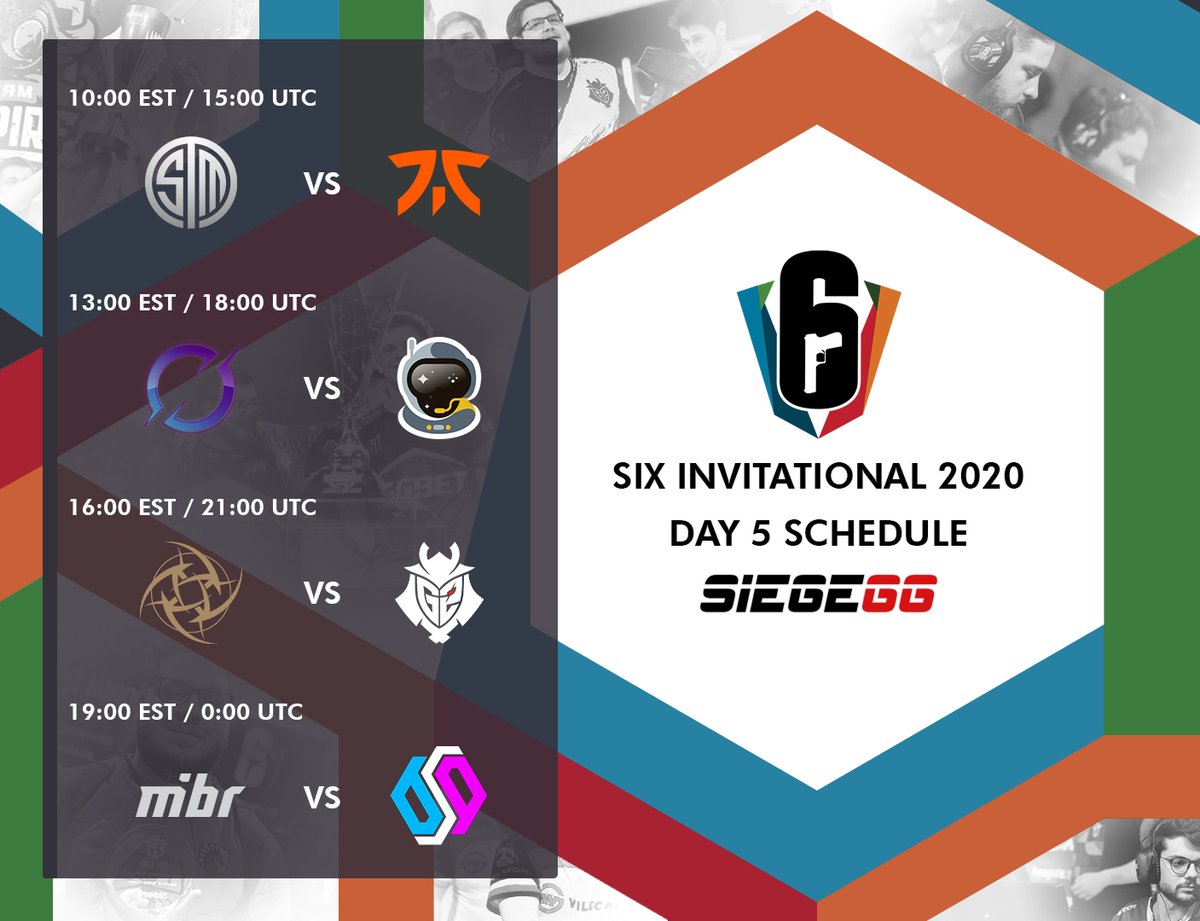 Team SoloMid vs Fnatic
Consulate (7-2), Kafe Dostoyevsky (7-4) and Coastline
Following Fnatic's upsets over Empire and G2 in their two prior games, they next played one of the North American favourites of Team SoloMid in the first semi-final of the event. Both teams had already fallen in the group stages but had been looking strong with a winners' final in site.
FNC began TSM's map pick in a very dominant fashion, taking the opening round in a flawless fashion before a plant by Lusty with eight players left alive cleared out round two. From this point, momentum swung the other way with Fnatic achieving just six kills in the next four rounds which included a quadruple kill by Achieved on round four. With sides switched, APAC fans hoped this would signal a switch in play, however, while rounds came closer, results stayed on TSM's side. The closest round on this second half came in an attempted post-plant 1v3 clutch by MentalistC which was eventually shut down by Pojoman on Thermite to win the round.
Next up was Fnatic's map pick and a chance for them to get back into the game, however, the map saw little improvement. Lusty broke TSM's eight round streak with a 1v1 clutch over Merc to defend their planted defuser before Achieved secured yet another 4k to kick off another four back-to-back round wins to end the half 5-1 on Kafe. Side's switching saw Lusty win a second 1v1 against Merc on Valkyrie, however, these one off rounds weren't enough as TSM were clearly outdoing their opponents closing out the semi-final in a hand full of rounds, 7-4 to take the series.
This win guarantees them a game on both Saturday and Sunday after their day off on Friday where they'll be looking for a repeat performance by Achieved to help push them even further.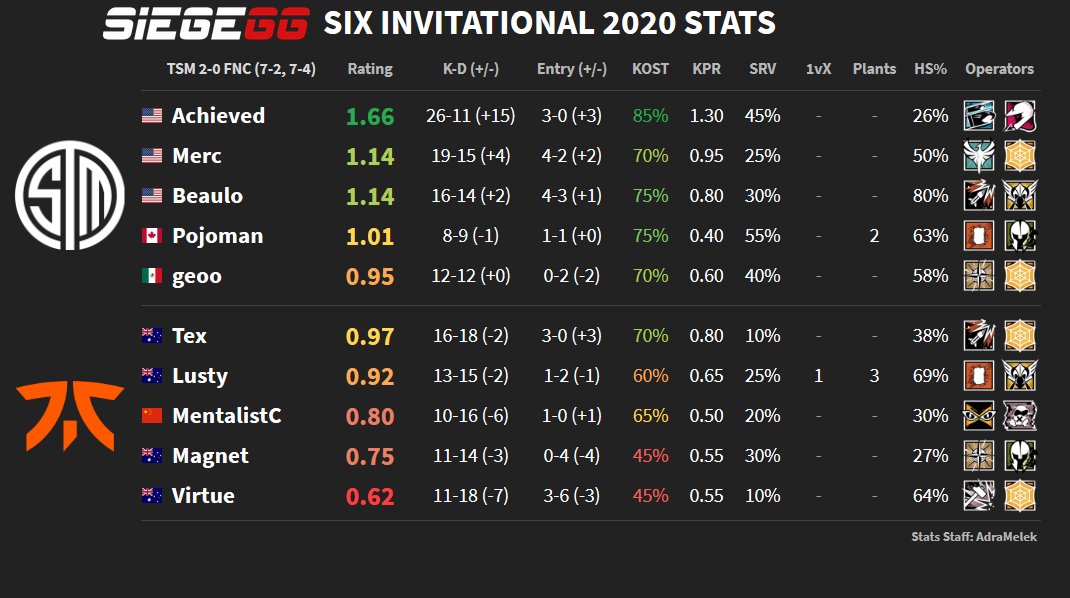 Spacestation Gaming vs DarkZero Esports
Villa (7-5), Kafe Dostoyevsky (7-4) and Bank
Next up we saw the all-North American semi-final between the winners of groups A and B with the winner likely becoming the favourite to take the whole event. The series started off with SSG selecting defence first on Villa as they hoped to rack up rounds before the side switched. With the advantage in mind, SSG started off well with DZ taking till a Kitchen/Dining attack on round four to get on the board before a 1v1 between Skys and Fultz gave DarkZero their second of the map on the Trophy/Statutory objective.
With a target of four to win for DZ the half went much the same as SSG's defences as they took till their third round to win on attack, however, a strong round 11 ended up making up the difference as SSG lost just ThinkingNade while taking the Aviator/Games site leading to their 7-5 round scoreline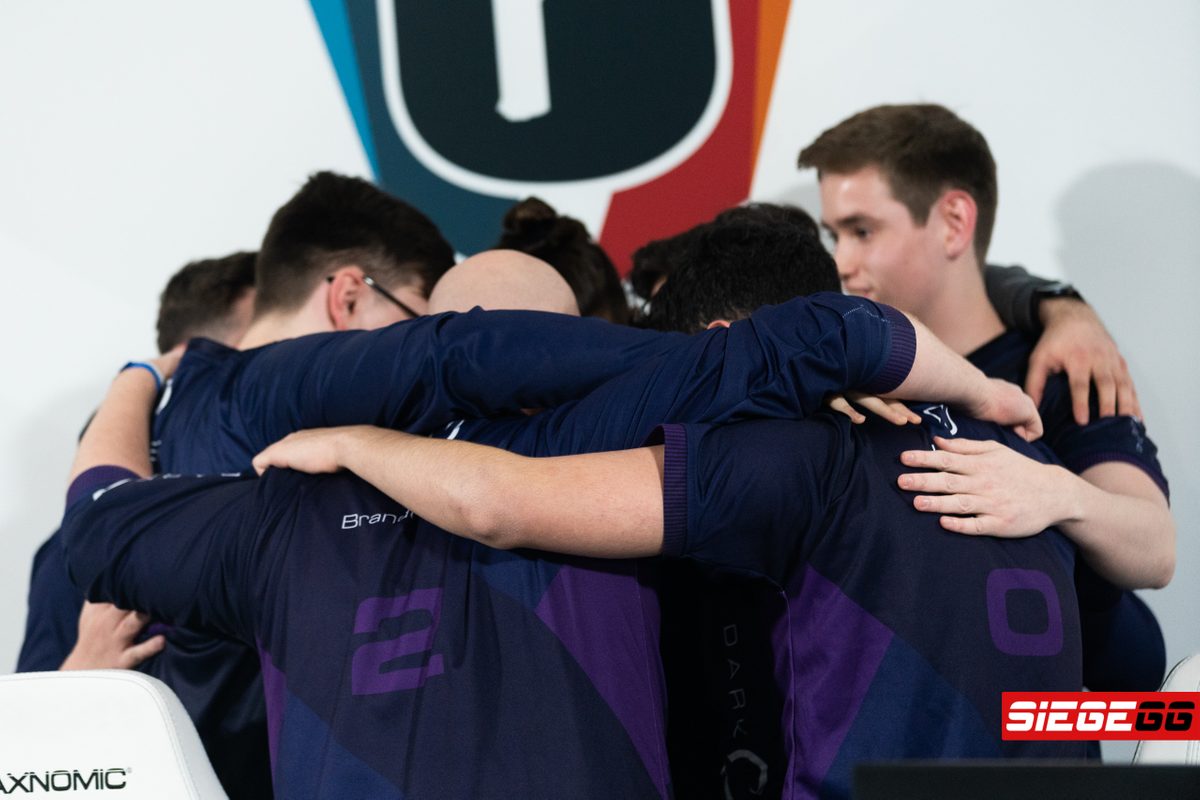 Despite being less defender sided, map two of Kafe started with SSG securing yet another 4-2 half with highlights coming thanks to a 4k by Bosco on round one. As sides switched the momentum didn't. Despite losing round seven, SSG responded by pushing onto map point thanks to a 1v2 by ThinkingNade before ending the map, 7-4 in a clean Service/Cooking defence.
With this SSG won their game 2-0 to set up a meeting against TSM on Saturday in the winners final, a rematch of their group b meeting which SSG came out on top initially.
Ninjas in Pyjamas vs G2 Esports
Border (7-2), Coastline (8-7) and Consulate
The third match of the day saw G2 try to make it onto the stage after losing to Fnatic the day prior. Up against them, however, was a LATAM roster which G2 has a notoriously bad record against.
This record showed straight away as NiP took G2 to Border and demolished them there. With not a single round really being contested, the map ended 7-2 as G2 won rounds on both an Armoury/Archives attack and defence while NiP's highlight came on the very first round with a 4k by muzi.
UUNO kicked off their own pick with a 4k of his own before it looked like NiP was making a run for the map once again. Four rounds were won in a row before G2 ended the map 4-2 which was responded instantly by a 3v1 post-plant victory by kamikaze at the beginning of the second half. G2 stepped up on the second half as defeat loomed winning four out of five of their remaining offensive rounds to push the game into overtime where the round rotation ended their chances. NiP started on the offensive side which had already won the majority of rounds this map meaning that they took the map with all three overtime rounds going to the attackers.
With a 8-7 scoreline NiP, therefore, ended the series 2-0 to knock G2 out of the tournament before the mainstage even began meaning they won't be retaining their title for a third year running. For NiP meanwhile, they now go on to face DarkZero Esports in a rematch of an Allied Esports meeting back in June 2019 in which NiP won 7-1.
MIBR vs BDS Esport
Bank (7-2), Clubhouse (7-4) and Kafe Dostoyevsky
Finally, the last game of the day saw Europe's last hope in the tournament in the French roster of BDS Esport face the second Latin American roster of MIBR.
The game started off much like G2's except for with EU on top as BDS ran circles around MIBR on their own map pick of Bank with MIBR's round wins coming thanks to a 1v1 between Cyb3r and Renshiro and an entry double kill onto Mking. BDS on the other hand saw Shaiiko secure 11 kills in just the nine rounds as three players achieved a rating of 1.26 or higher as they rushed to the 7-2 victory.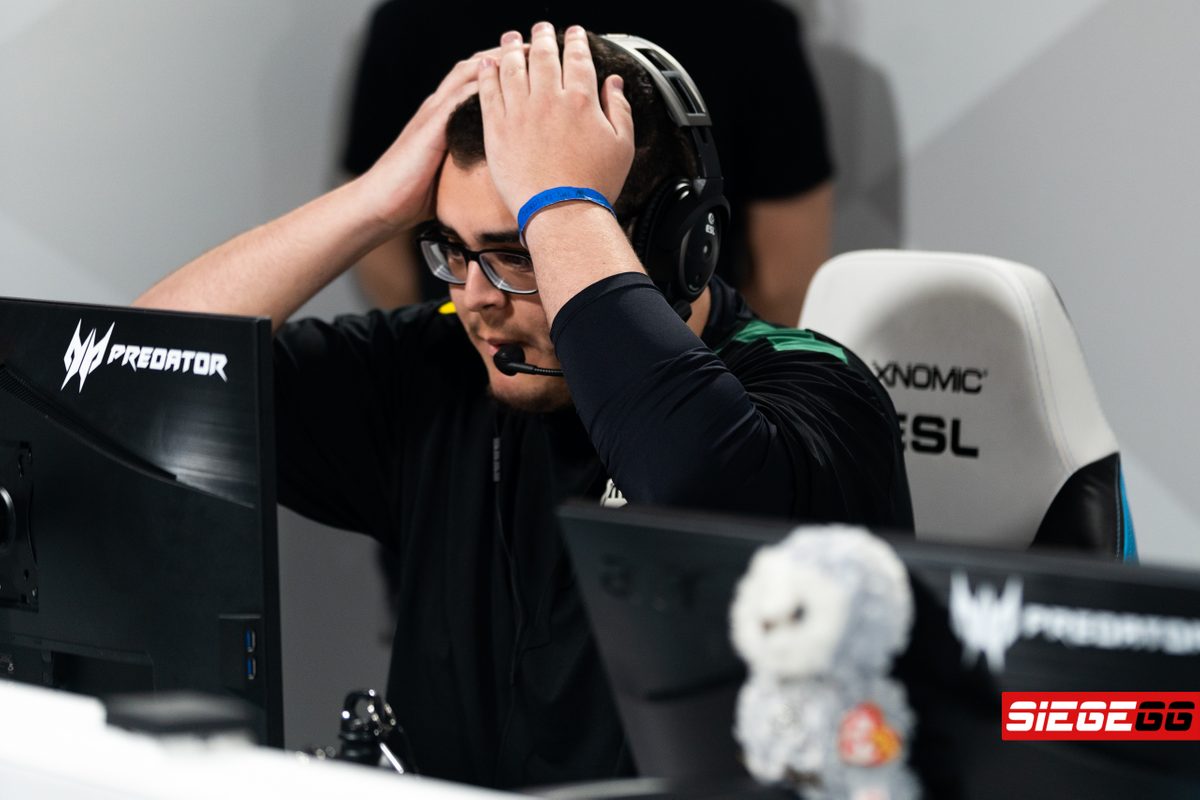 While map two of Clubhouse was MIBR's pick, it was hardly any better for them. Two plants and five kills by Shaiiko gave BDS the first two rounds while MIBR secured both times they picked the CCTV/Cash objective thanks to standout plays by Mking leading to a 4-2 half. BDS' half began with a 1v4 by RaFaLe in the play of the game which was followed up by a 1v2 by rxwd as MIBR had seemingly given up by now. The game eventually ended on round 11 with a standard Church/Arsenal hold by BDS to win themselves the map and series in the fourth 2-0 of the day.
Losers' Bracket
Following these results, today we will see the two losers' bracket games of Fnatic vs BDS and DarkZero vs Ninjas in Pyjamas while the two winners' bracket teams of SSG and TSM take the day off.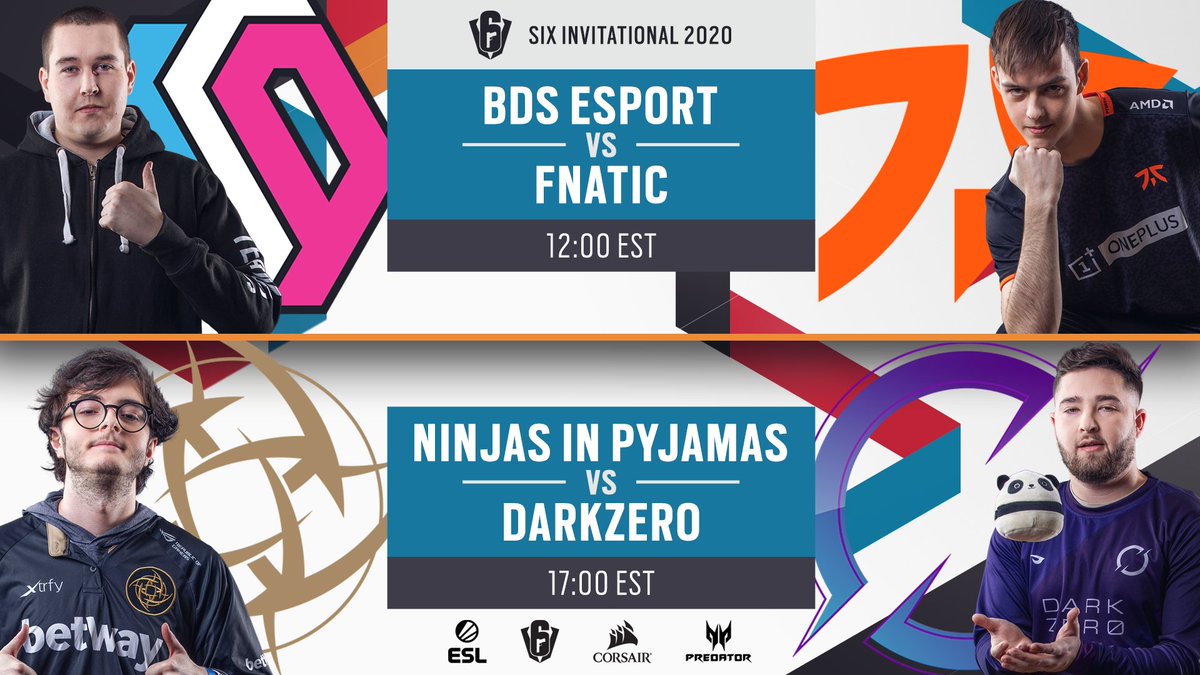 ---
Catch all of day five's Six Invitational action on the Rainbow6 Twitch channel from midday AM EDT onwards, with more exciting matches to come as we say goodbye to two more teams.