With the Pro League Finals making their way to APAC for the first time ever, and multiple traditional powerhouse teams making way for fresh faces, the excitement was palpable in the Aichi Sky Expo in Tokoname. After a scintillating first day that saw APAC wow the Japanese crowd -- with Aerowolf progressing -- the games were set to get even better on the second day as the four teams remaining all fought to win the Pro League title for the first time.
---
Semi-Final 1: DarkZero Esports 2-0 Aerowolf
Maps: Border (7-3), Bank (7-3), Clubhouse (Not Played)
DarkZero: Mint, Hotancold, BC, Hyper, Nyx, BKN (coach)
Aerowolf: Lunarmetal, Ysaera, HysteRiX, SpeakEasy, MentalistC, jrdn (substitute)
Coming into the match, DarkZero's players were keen to do something they never had before despite having had multiple opportunities -- get to the grand final of a Pro League Finals. Having had a six-hour head start on Aerowolf to study their game, the top North American seed definitely had the advantage. However, the APAC top seed was on a revenge tour of its own and was keen to send Patrick "MentalistC" Fan with the best possible swansong.
Starting on Border, a map that Aerowolf had lost to Fnatic on but had crushed NORA-Rengo on, the analysts were divided on what was to be expected. DarkZero drew first blood after a close 1v1, but Aerowolf pegged them right back. Two more rounds followed the pattern, but DarkZero then pulled away with strong response of their own, taking the half 4-2. Attempting to mount a comeback, MentalistC reeled off four kills to shut DarkZero down, but the North Americans were equal to the challenge and reestablished the two-round lead and powered on past an Aerowolf that looked shaky on defense to secure three match points. They eventually did not need more than one, as they cleaned up a hapless Aerowolf and cruised to a 7-3 win.
Disheartened but not broken just yet, Aerowolf moved on to their opponents' map pick, Bank. However, DarkZero well practised on the map, and Aerowolf being relatively inconsistent, the signs were those of warning for the Singaporeans. As had happened on the first map, Aerowolf showed signs of life early in the game, once again on attack first. Drawing first blood, they regained the lead after DarkZero made an uncharacteristic mistake, but it was essentially the DZ show from then on. A 2-2 scoreline became 4-2 very soon as the North American squad began to work beautifully in tandem, and while MentalistC virtually won a round all on his own with a quad-kill, Aerowolf's lack of preparation for a possible second opponent was apparent. DarkZero, on the other hand, had no such problems thanks to their top-tier organisation giving them immense support with a coach and an analyst amongst other staff, and they cleaned up shop to take the second map 7-3 as well.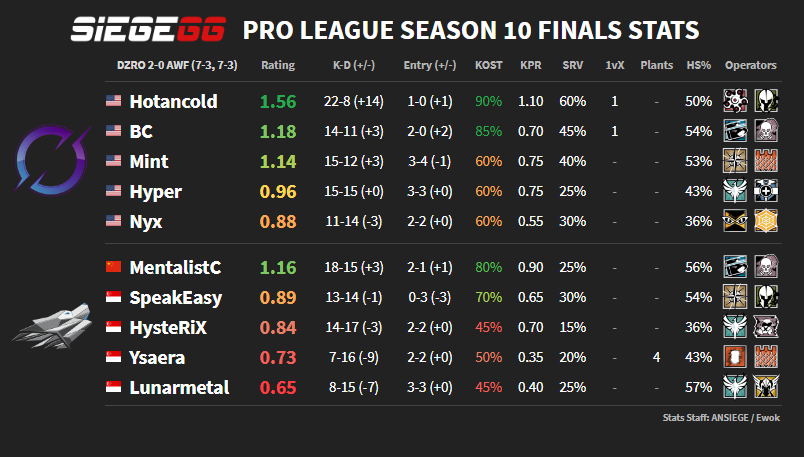 The result means that Aerowolf's fairytale journey comes to an end this season, having scalped Fnatic, NORA-Rengo, and Giants Gaming, though the Singaporeans go home with heads held high and a promise to return stronger despite losing MentalistC in the future. DarkZero, on the other hand, makes it to the first-ever Pro League grand final for each player except Brandon "BC" Carr, as the players quest to become the first North Americans to win a Pro League title since Continuum in Season 3.
Semi-Final 2: Natus Vincere 2-1 Team Reciprocity
Maps: Consulate (7-8), Villa (7-1), Clubhouse (7-5)
Na'Vi: Kendrew, neLo, Pie, Saves, CTZN, GiG (coach)
Reciprocity: FoxA, MarktheShark, Skys, LaXInG, Retro, HOP3Z (coach)
With both Natus Vincere (Na'Vi) and Team Reciprocity having struggled the day prior against Wildcard Gaming and Ninjas in Pyjamas, respectively, observers were not quite sure what to expect. Wildcard, the APAC second-seed, had twice been one round away from beating Na'Vi, while Reciprocity -- in their quest to save strategies -- had nearly let things go to a third map against a Ninjas in Pyjamas playing with two stand-ins that had only flown in on the day itself.
The game started on Consulate, Na'Vi's pick and the Europeans began running away with the game. First blood also became second, then third, and fourth, as Na'Vi raced away to a 4-0 lead off the back of their star player, Ben "CTZN" McMillan. Team Reciprocity, criticised by the public for not being 'good enough', were sinking, but Alexander "Skys" Magor would wake his team up as he began matching -- and surpassing -- CTZN blow for blow. All of a sudden, Reciprocity had put four on the board, having won their last two offensive rounds and their first two defensive rounds. Na'Vi finally broke the momentum, but two further rounds for Reciprocity meant that the North Americans were on match point. The pendulum then swung the other way, however, as Na'Vi took two rounds in a row to secure match point themselves but a screaming comeback from Reciprocity meant that they would ensure they would have a leg up going into the next map.
Over on Villa, the story would change significantly, however. As it was Reciprocity's pick, Na'Vi was able to pick sides in what would prove pivotal. Starting off on defense, the Europeans did lose the first round to their opponents, but that was all they would concede. An absolute clobbering was to follow, as the three Brits, one Pole, and one Croat took round after round -- much like they had against G2 Esports in the online season to engineer a 0-5 comeback -- and put seven straight on the board to take the map and keep their hopes alive.
With Clubhouse to follow, the game was there to be taken by either team, and so went the initial pattern, with a three-round back-and-forth going 2-1 in favour of Team Reciprocity. But then, as if a switch had been flipped, Na'Vi woke up. Three strong defensive rounds were followed up by a strong offensive one, and a 5-2 lead was looking insurmountable for Reciprocity. The North Americans would pull one back, but a Na'Vi win would mean that they would have to claw back three match points and then also win in overtime. Second-seed they may have been, but Reciprocity certainly looked good to make it happen, winning one round and then a second. However, they simply ran out of steam and Na'Vi held firm to take the round, and thus the map 7-5.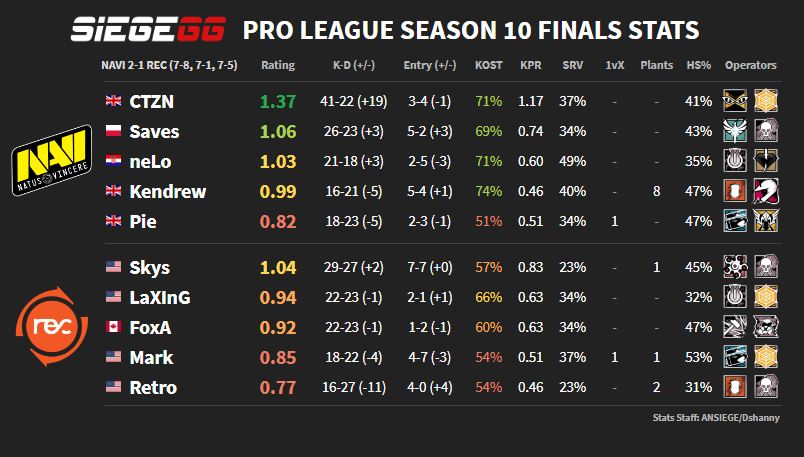 The result means that a Reciprocity that was virtually counted out the day before got far closer than most expected, not too dissimilarly to the Season 5 run from Skys and Gabriel "LaXInG" Mirelez on Elevate. While disappointed, their overall performance was strong enough to warrant much hope for their future, but it was Na'Vi that made it to the grand final -- struggling all the way -- to set up a date with DarkZero Esports.
Grand Final: Natus Vincere 2-0 DarkZero Esports
Maps: Consulate (7-4), Coastline (7-3), Clubhouse (Not Played)
Na'Vi: Kendrew, neLo, Pie, Saves, CTZN, GiG (coach)
DarkZero: Mint, Hotancold, BC, Hyper, Nyx, BKN (coach)
With DarkZero having had the luxury of watching the second semi-final from the comfort of their practice rooms, the North Americans certainly had the advantage coming into this match. With time to strategise for Natus Vincere and to relax a little before being thrust into the high-pressure arena, DarkZero would have certainly have been feeling confident. Na'Vi, tired after a grueling three maps against Team Reciprocity would have certainly been feeling less so, but just as DarkZero was the top seed from North America, Na'Vi was the best this season in Europe.
As was expected, the North Americans drew first blood, winning an attack by clearing out the second floor, but Na'Vi was thoroughly disinterested in what 'should be happening'. Two quick rounds went their way as they fought back to take an early lead, but it seemed like there was a tight game in the offing as DarkZero clawed back important ground with two round wins. Things were tied at the half with yet another Na'Vi defensive win, but the Europeans reeled off three rounds in a row to find themselves dominantly on match point. While DarkZero would try and spark a comeback, Na'Vi would only allow them a round of breathing room before shutting them down to take the map 7-4.
Then moving onto their own map pick, Coastline, and defending first, they once again lost the first round as well as the third. However, with wins on the second and fourth rounds to keep things 2-2 while DarkZero was on the favoured attack, all signs were pointing to a clear and easy Na'Vi victory. The three Brits, one Pole and one Croat would soon go on to provide just that, winning the next two rounds to take the half 4-2. While DarkZero would show some signs of life with a win on their first defensive round, Na'Vi would virtually cruise through the next three rounds and deliver a crushing 7-3 defeat to DarkZero, taking the map, the series, and the Pro League title in their debut season -- much like Team Empire in Season 9.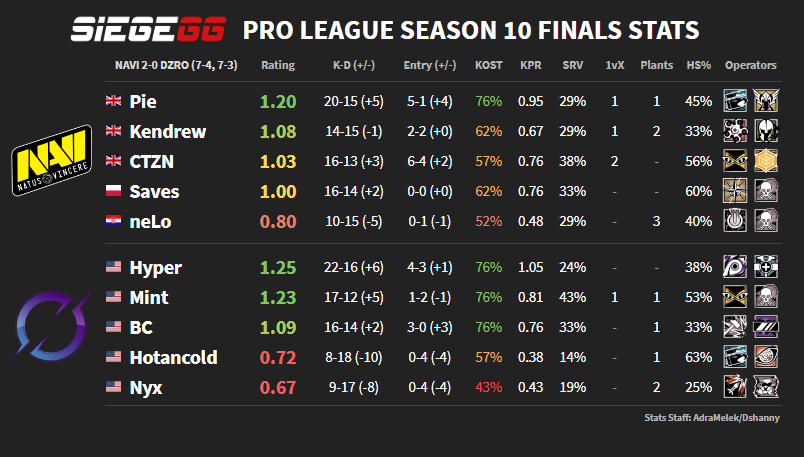 Now with a Pro League title under their belt, after having won the ESL Premiership title twice, as well as Season 9 of the Challenger League, Natus Vincere will set their sights on the Six Invitational title, aiming to go all the way in their facsimile of Team Empire and win a Major right after their first international title.
---
That marks the end of all the action from the Pro League Season 10 Finals. Continue heck in here at SiegeGG for constant updates, and follow us on Twitter and YouTube for more, and SiegeGG wishes a hearty congratulations to Natus Vincere.