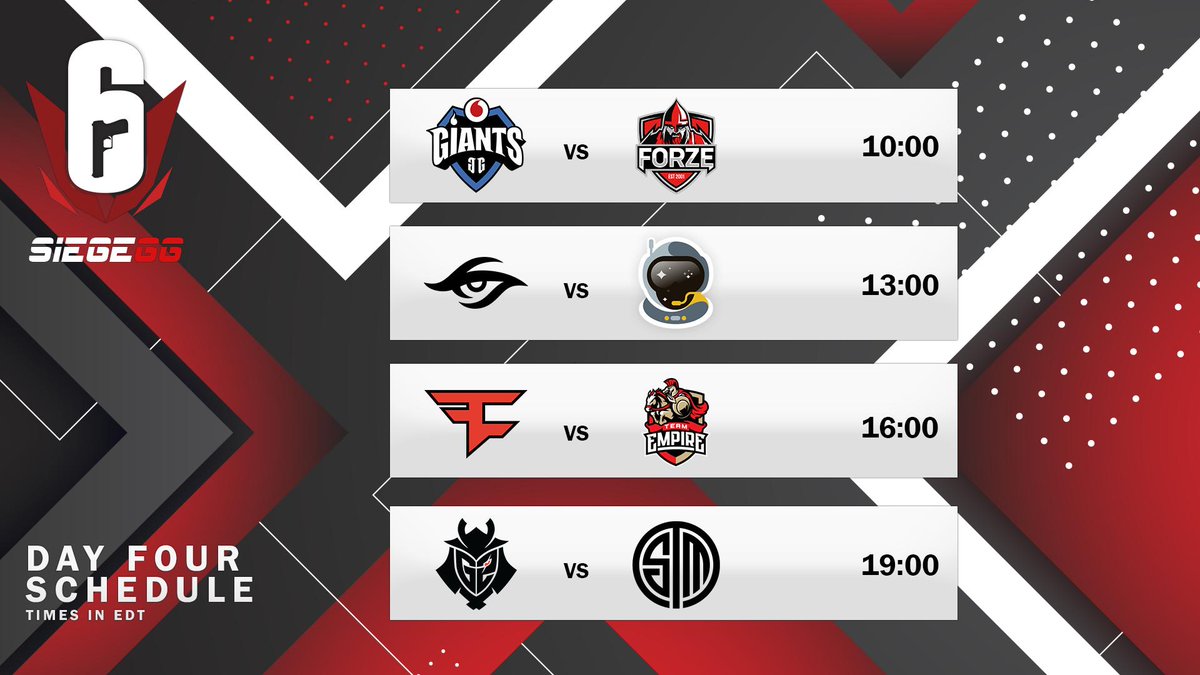 With just eight teams left, whittled down from the 16 that had turned up, the hype had never been higher for the Six Major Raleigh playoffs. APAC had already been eliminated, LATAM had just one team making it through, NA was down to two from the five that had made it, and EU was still going strong with all five teams still in the running.
Missed the action, though? Fret not, and read on for a brief summary of all the action seen during the quarter-finals of the fifth-ever Rainbow Six Major, held at the Raleigh Convention Centre in North Carolina.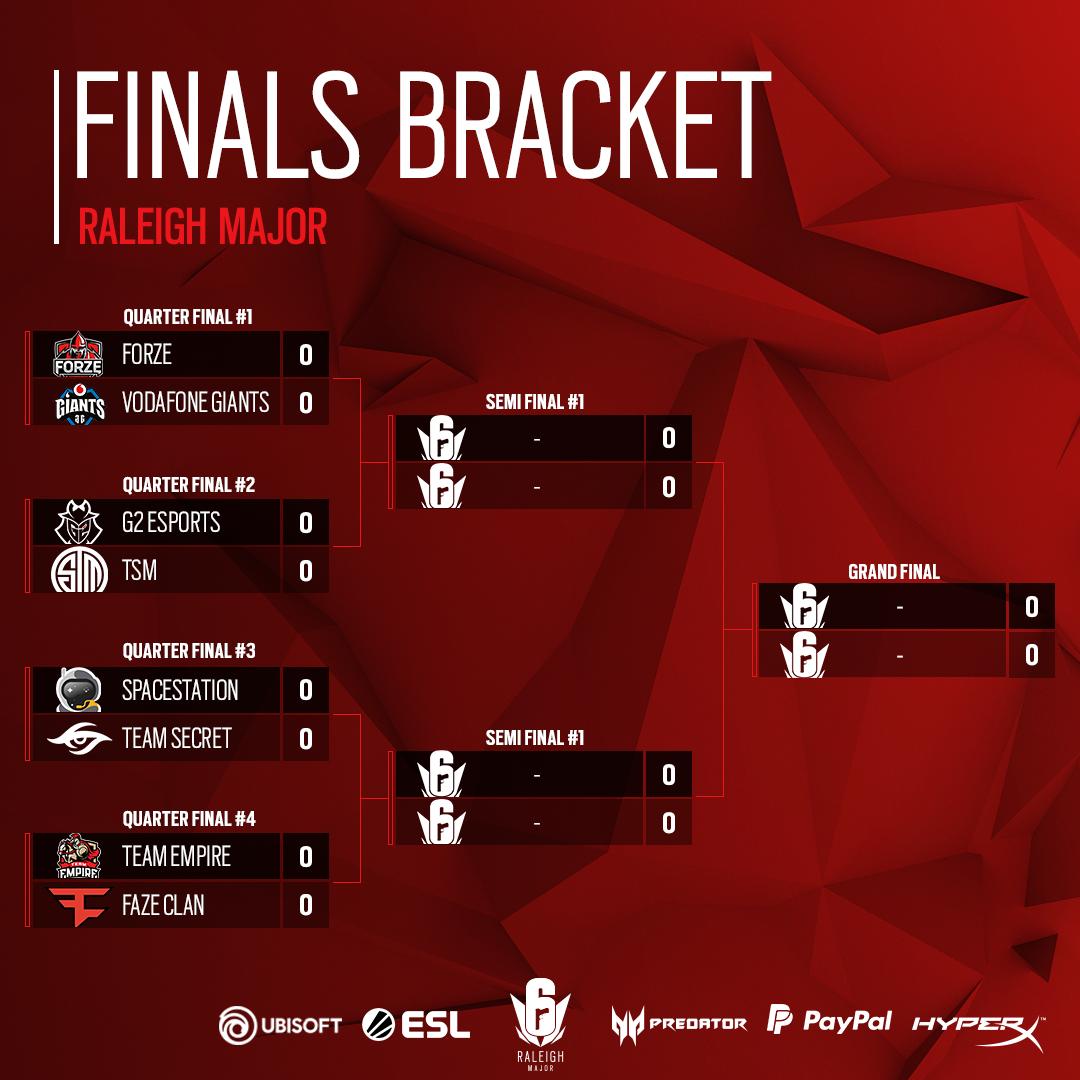 ForZe 2 - 0 Vodafone Giants
Maps: Consulate (7-4), Border (7-3), Villa (Not Played)
Starting off on Consulate, forZe drew first blood with an excellently played defensive round and while many had expected the Giants to pull things back soon, the recovery never came. Giants finally secured a round win on their fourth attack attempt, but by then it was clear that forZe were firmly in control, with Rask leading the way for his team to take the first half 5-1.
Swapping sides, it seemed that the game was following in the footsteps of previous Consulate games, with the map being the second-most defensive-sided (with a 64% defensive win percentage) at the Major so far. The Giants pulled things back with a defensive win to stave off defeat a while longer but should have lost in the ninth round when two of three surviving members were down against a lone wTg. A poor decision from him prolonged the game a while more as the Russians but forZe eventually struck the finishing blow with a crushing attack victory to move onto Border.
Border, too, started off much the same way, with forZe uninterested in giving the Giants any breathing room as Rask stormed the site and got a swift triple kill in the very first round before following it up with two in the second. Once again, with the map being forZe's pick, the Russians were absolutely cruising and in fact did one better than their Consulate first-half performance, taking the half 6-0.
The Giants had done little outside of half-heartedly going through the motions, but an offensive victory after the role swap finally saw them put a round up on the board before a near-1v4 clutch from wTg meant that they got a second. Now, though, the Giants had come alive and were full of confidence and vigour, with Hicks leading the way to push the game to the tenth round before forZe took a tactical timeout. Clearly, things had worked, and p4sh4 finally got the opening kill for his team and Rask rescued the round by doing what he did best despite Korey's best efforts to secure the first semi-final spot in their first-ever international LAN event.

Team Secret 2 - 0 Spacestation Gaming
Maps: Kafe (7-5), Bank (7-4), Villa (Not Played)
Spacestation Gaming (SSG) got things started on Kafe, an EU staple so far in Season 10, and it seemed that Team Secret were more than happy to oblige them, going to a map that they were extremely well-versed on. Team Secret drew first blood, but while SSG answered back immediately after a Yokai drone misplay from Fonkers, the Europeans were far too comfortable to let things slip. Secret kept piling on the hurt, and SSG's poor time management on attack hurt them as they went into the second half down 1-5.
Swapping sides, SSG seemed to have a resurgence going onto the more favoured defense. Two very strong defensive round wins put the wind in their sails and it seemed that they would finally achieve liftoff, but Secret pulled them right back down with a well executed attack with ample time left. SSG, though, were undeterred and answered with two of their own, but an extremely tense final round saw Fonkers be the hero once more as he clutched things out and Secret deservedly closed out the map after a far better showing on attack than SSG had.
Now on their own map pick, Fonkers once again got things started in style by winning a tense 2v2, but once again SSG were ready with a reply. Fonkers was then again the spearhead for Secret as he pulled off yet another 3k and Secret piled on, getting a third as they kept on successfully forcing the North Americans away from their defensive positions. SSG, though pulled things back slowly but surely to tie things up at halftime, even repelling a rush from Team Secret.
On defense, though, Secret surged ahead once more, securing one round and then another -- helped along by extremely poor decision making from SSG -- before getting a third and securing three valuable semi-final points. ThinkingNade first had a 1v4 denied at the very end, before SSG returned the favour by preventing Elemzje from getting his own 1v4, but Secret pulled things together and won the last round that they needed to knock out yet another North American team.

Team Empire 2 - 1 FaZe Clan
Maps: Kafe (7-5), Clubhouse (1-7), Consulate (7-4)
Starting off on Kafe, it was Team Empire who struck first, taking a strong defensive round on the third floor, but FaZe Clan refused to be cowed and replied with two very strong attacks of their own. Empire, returning to the third floor tied things up and then took the lead, but cameram4n with the C75 was a thorn in Empire's side and kept FaZe level at the half.
Moving onto attack, though, Empire could still not shake off FaZe Clan. While FaZe were regularly punished for their aggression -- clearly a conscious choice to try and throw Empire off -- they were managing to hang tight with Empire very well. Each time Empire would go ahead, FaZe would peg them back, but with just two rounds to go in regulation time, it seemed that Empire had unlocked an extra gear. Suddenly looking effortless in attack, Dan lead the charge, securing a brilliantly played 3k on the final round to put the nail in FaZe's Kafe coffin and move onto Clubhouse.
Over on Clubhouse -- a map that Empire came into with a 14-1-1 record with -- it was presumed that FaZe would be put to sleep without much fanfare from their side, but the Brazilians were far from interested in whatever 'should have been'. They drew first blood, and then second, and then third, as Dan died first all three times and jaws began to drop across the convention centre. FaZe then added two more, with Empire seemingly looking utterly lost against their opponents' defenses -- and Caveira plays -- and it was clear that FaZe had done their homework.
A tactical timeout was then called and it seemed that Empire had finally woken up as they managed to get their first round on the board -- and that too a flawless one. However, it was merely a blip on FaZe Clan's radar as they were keen to disabuse the notion of Clubhouse being defender-sided as they struck back with a vengeance to take their first attacking round and follow that up with a bodyblow on the last round to get the tournament's first map three since Monday.
On Consulate, it was clear that FaZe were deeply unhappy with what had happened on Clubhouse and they came out swinging, securing the first round with ease. When FaZe retorted with one of their own, it seemed that this would be a repeat of Kafe, but Empire then began to pull away almost effortlessly, piling on three rounds to take firm control of the match. FaZe finally arrested the slide, but on the second-most defender-sided map at the Major, it seemed that two defensive rounds were not enough.
Switching to attack, FaZe seemed well and truly in control on their first round and were up five men to two, but a server crash forced a replay of the round. Despite the advantage, Empire failed to repel FaZe's attack once again as the Brazilians burst in to get closer to tying things up. Next, it was Empire's turn to get hit by misfortune as the server crashed with Empire up five men to three. Unfortunately, Empire were unable to do what FaZe had, but the Russians kept their heads about them with a tactical timeout and took two rounds to get to match point. The final round saw Empire start well in control, see that control ebb and flow again, but ShepparD held strong to only just deny the plant as the timer ticked to 0:00, and push his team to the semi-finals.

G2 Esports 2 - 0 Team SoloMid
Maps: Consulate (7-4), Villa (7-3), Coastline (Not Played)
With the ban phase arguably well in favour of G2 Esports, the reigning world champions kicked things off with a strong opening round with a defuser recovery, then began asserting their dominance over Team SoloMid (TSM). While TSM replied with a successful attack of their own, G2 would turn on the heat and take two more defences without much issue before TSM would get only their second round, with Beaulo -- most notably -- being kept very quiet by G2. However, Consulate is a greatly defender-sided map, and it was TSM who would then get to try their hand on defense.
As expected, TSM won their first defense on the basement, once again becoming another data point for Consulate's defensive-sided nature, but the Europeans were unperturbed and brought out a Lion to aid against TSM's aggression and were immediately rewarded with two round wins. It seemed all too easy for G2, who turned TSM's strength -- their aggression -- into a weakness by simply being patient. TSM were far from out, though, as they dialled up the aggression and were rewarded by a round victory, but were unable to get anything more as Fabian and Kantoraketti led the charge to take the map 7-4.
Over on Villa -- where Mock-it Esports had famously smacked G2 6-0 at the Six Major Paris and where SSG had nearly beaten them at the Six Invitational 2019 -- G2 started on defense yet again, now on the most defensive-sided map at the Major. As expected, they started off with a round win, with Pengu and Goga recovering a 2v4 situation, but TSM immediately fired back, much to the home crowd's delight. Pengu was then the hero for G2, though, as he rescued a 2v2 situation to give G2 the lead once again and then helped extend it further to 4-1.
TSM pulled things back to 4-2 as they swapped roles, but G2, with all their experience, were quick to give a response. Just two rounds away from a semi-finals appearance, G2 then attempted an overly-aggressive and swift site take but were thoroughly rebuffed. Going back to a more regular take proved a lot more successful for G2, before the world champions consigned the last hope of North America to defeat with a very smoothly executed Blitz-lead push and book a date with forZe for the semi-finals.

---
Catch all of day five's Six Major Raleigh action tomorrow on the Rainbow6 channel from 12:30 PM EDT onwards, as four teams remain in the semi-finals on their quest to become the Summer Major champions. Team Empire will first take on Team Secret, after which forZe are going to be trying to do what no team has done -- beat G2 Esports in a Major.