G2 Esports is a team that needs no introduction. Three Major wins, three Pro League titles, and one DreamHack have certifiably cemented the roster as the all-time greatest. Recently, the team has been having more of a struggle, but their fire has not gone out and they are constantly hungry for more success.
Going from swift and unquestionable domination to fifth in the Pro League is not an easy pill to swallow, but it is the reality that G2's players find themselves in and have vowed to pull themselves out of. Heading to the Six Major Raleigh, a prime opportunity for them to do so has once again presented itself. Just six months prior, at the halfway mark of Season 9, G2 was struggling online as well, but come the Six Invitational and they became the first back-to-back world champions in Rainbow Six. Then, G2 Esports had revealed that they had been hiding strategies -- and it had clearly worked.
However, the second half of Season 9 was beset with the same hiccups that had been present in the first half and -- for the first time ever -- G2's roster missed out on a Pro League Finals appearance. Now in Season 10, it seems that history is repeating itself so far.
However, there are justifiably more doubts about G2 repeating their success in Raleigh given how far the rest of the scene has caught up and the fact that G2's continued struggles hint at deeper issues. What's more, G2 has signed up for DreamHack Montreal -- potentially as insurance for qualification for the Six Invitational 2020 given that they are almost certainly out of the running for the Season 10 Finals. While they could, of course, qualify through the open qualifiers, missing out on a Major is not a risk G2 would want to take, no matter how small.
To know more about G2 Esports' preparation for the Six Major and their season so far, SiegeGG spoke to Niclas "Pengu" Mouritzen:
You currently sit in fifth place in Europe at the end of the first half of Season 10. After the end of Season 9, you had acknowledged that that third-place finish was not in your plans, but it seems there's an underlying issue. Could you help us understand what it is, and how are you working to rectify it?
A low finish is never among anyone's plan as a team. However, we do not only want to win Pro League games -- we want to win LAN tournaments. We have very high requirements of ourselves and our performance, and as Shas (our coach) stated -- with the roster change of Joonas in regards to not playing the game the same way as a team, we are still working on that, and I think it shows.
You look at our very first game vs mousesports (now GiFu eSports) that looked very much like G2 dominance, but it was more of a fluke on their part. You see, GiFu is also struggling with the exact same issue as we are, figuring out the "personality" of the team in terms of playstyle and preference -- we simply beat them with individual skill.

Once we faced harder opponents, our game quickly fell apart, but I think looking at our more recent games -- specifically against Empire and Looking For Org (LFO) -- despite many mistakes still being made, we are looking a lot stronger than before. It's an internal process about re-inventing yourself, your internal systems, and methods, and that is what we have been working on as of late. It's not about individual skill, but more to work as a team and as a whole.
Despite these unexpected results, G2 has yet to drop a single map against Team Empire across the eight played. What is the key to success against the reigning Pro League champions?
I think we do very well against 'logical' gameplay. You look at our biggest fall last season against mouz on Consulate -- it was full of crazy peeks and a playstyle we refer to as "monkey play style" which refers to aggression, completely un-logical overly-aggressive moves where 50/50 gunfights determine the entire game. It's something that you rarely see at the highest level of play but often find in the norms of ranked/lower end of Challenger League.

Empire plays very logical -- in fact, we have learned a lot from watching them. They are in my own opinion tied for best in the world with us, G2. Neither G2 or Empire has a roster filled with crazy players -- yes JoyStiCK is a cyborg, no denying it, and yes, Kantoraketti is unmatched on a good day, but, to be honest, we aren't as crazy of a roster as teams make us -- not in terms of raw power.

I don't personally believe that is what makes us such a strong team, but I will admit that we have extremely clutch players, who work well together, and under pressure. I think a lot of teams suffer from mental issues within the team, but we don't even speak our native language and we are up near the top... we make it work.
UUNO recently joined the roster in what was likely the biggest roster change in Siege history. How has he been fitting into the lineup?
UUNO fits in pretty well for two reasons -- one is that Uuno is a very flexible player, give him a good gun and he is a fragger, give him utility and he is a brainer, pretty simple.

But, I also think that we are an "easy" team to join. We allow our players a lot of creative freedom in playstyle and operator picks -- you will see Fabian, Goga, and I play any operator in a try to support our main fraggers, who are UUNO and Kanto, and they are given as many resources as they need to fulfil their role because that is the kind of players they are. They are a worthy investment because they get the job done.

Our strength lies in that our support/flex players aren't on those roles because they are any weaker -- we have seen the power of Goga on Thermite many times, and we have all seen and heard of the best player in the world Fabian. Our strengths lie in our core as a team, from bottom to top.
Would you prefer the current format, a Swiss format, a double-elimination format, or another format for the Major?
I'd personally prefer Swiss for the simple reason that you would truly find the best team -- everyone plays everybody, no lucky bracket or any of the sorts, or Swiss until the top-four or top-eight and then Bo3s into a Bo5 final. I think the bracket determines who goes out early too often and it's a shame because a bad matchup is the end of some teams' potential, while a free ticket for others.
The group stages were announced two weeks before the Major kicks off, how do you go about preparing for an event when you don't know who you'll be playing?
Well, we don't... we can't… of course, we will do our best, but realistically either we need to prepare for every single team, or we need to do a months worth of prep while on the road at bootcamp in a foreign country while travelling abroad and on less stable set-ups. It's a big shame that they didn't announce the group stage the day they could (when the last qualifier was played) because now we are low on time and this affects everyone.
How do you usually warm up before a big match?
We usually have either an online bootcamp (one week of a practice-filled schedule) where you huddle through and get a lot of practice in, or we bootcamp at the G2 headquarters in Berlin (we headed there on August 1st until we fly out to the Major as a team).

We spend a lot of time on theory sessions to talk about potential new stuff for lan, gameplan, mentality etc the usual for most teams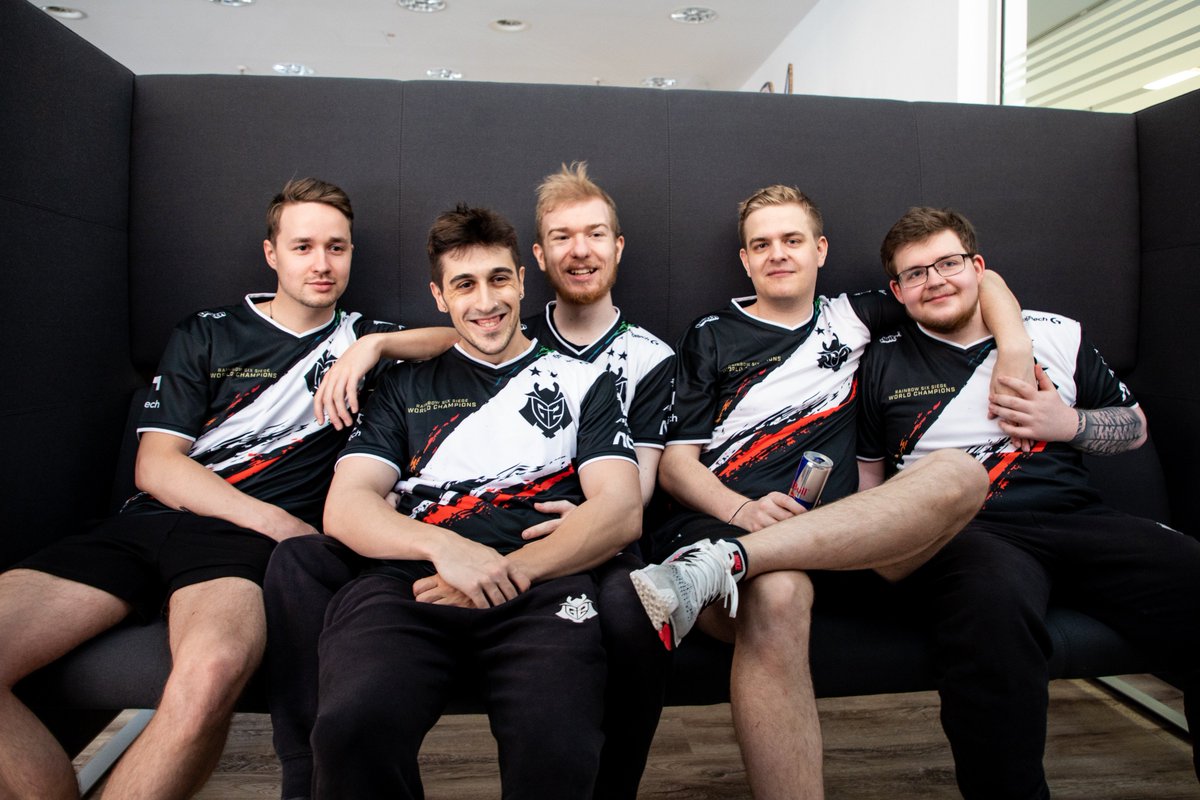 Which is one team you have faced (or anticipate) that has been (or will be) the biggest headache to play?
Biggest headache… I don't think anyone will be a headache, I have too much respect for the teams qualified to call anyone that, but I think it'll be harder to beat the expected top-tier teams such as DarkZero Esports, a team we have never faced before, obviously Empire, the powerhouse of EU currently, LFO, and perhaps Fnatic.
---
The Six Major Raleigh 2019 is taking place from the 12th of August to the 18th, where G2 Esports will be pitted against the best teams on the planet, starting off with Cyclops Athlete Gaming, Team Secret, and Rogue in Group B, and will be looking to win fourth Major title in a row.