Week 2 of the Pro League took place this week so let's take a look at some of the highlights from across the European, North American and Latin American game, with the APAC roundup being found here.
Europe
With 10 out of 11 casters agreeing on who would win each of playday one's matchups, it was expected to be a rather dry day as there were very clear favourites throughout. However, while the first three games did go to the favourites, game number four was quite a surprise as the new British lineup of Natus Vincere beat the reigning world champions, G2 Esports.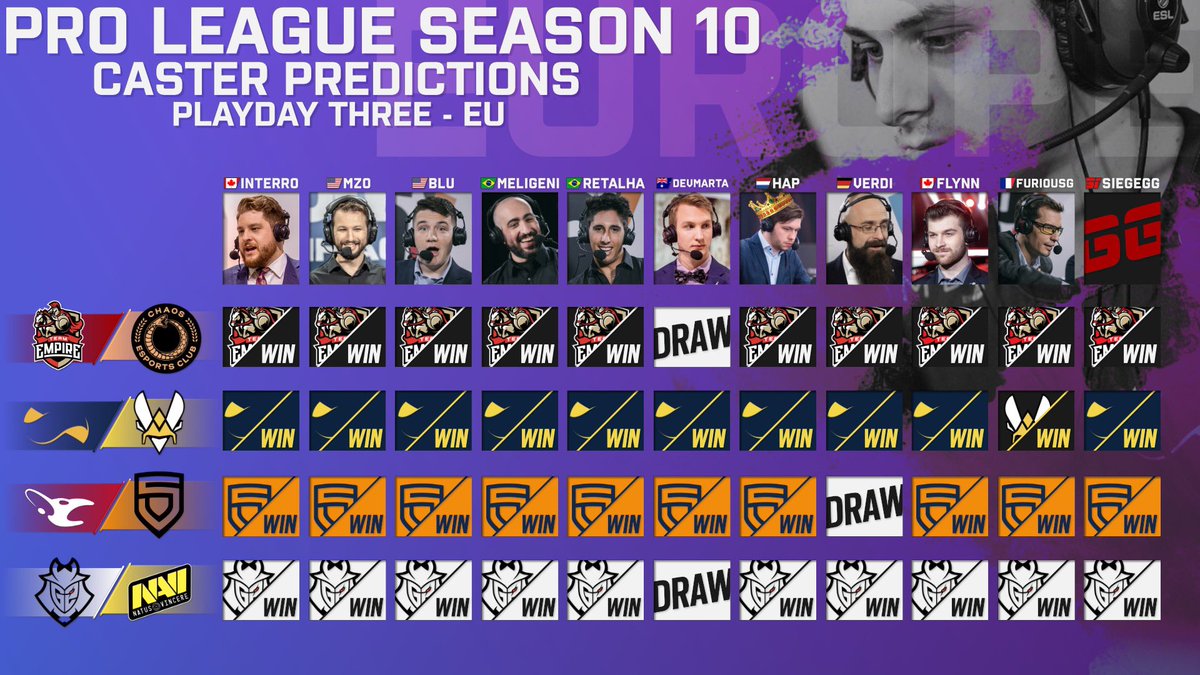 As these two teams went to Kafe Dostoyevsky, the story went very similar to that of playday one's game between Natus Vincere and PENTA. Na'Vi initially went behind after losing the first two rounds in fairly close fashion before managing to take rounds of their own thanks to some particularly impressive individual plays from Doki and Kendrew who each got a 3k on rounds three and fourth. CTZN followed this up himself by achieving a 4k on the Bar/Coacktail objective, the only offensive victory on the site out of the three times it was picked, leading to a 3-3 split at the halfway point.
As we went onto the second half though, just like last week, Na'Vi kicked into gear as they once again won four out of five rounds to end it 7-4. The only round won by the attackers in this half was thanks to a 3k by Pengu while attacking the downstairs Kitchen objective, but Na'Vi won both their rounds defending Reading/Dining and finished their sole Bar/Cocktail defence in a flawless fashion in response. From the games so far, it certainly seems like Na'Vi are the leaders on Kafe, moreso than any other roster in the world right now.
On Friday, G2 once again was involved in the match of the day in Europe as they faced off against Team Empire. With the two most successful teams in recent history going up against each other, Empire wanted to keep their undefeated record intact, while G2 wanted to continue their lossless streak against Empire as they in all tournaments.
The game was played on Coastline -- the same setting as the famous 22 round Six Invitational grand-final map -- and saw G2 go onto the defence first. Back in Montreal, the 22 round game was caused by neither team being able to repel each other's attacks with the attacking side winning 9/10 of the overtime rounds. This failure to defend continued on here as Empire won three rounds in a row in somewhat confident fashion. G2 definitely fought back, winning rounds four and six, in both cases managing to shut down the fragging duo of Joystick and Scyther early, while round five was narrowly lost by Goga after he brought a 1v4 situation back to a 1v1 before he was able to be stopped.
As we switched sides at 3-3, we saw the reverse of this story. G2 won three confident rounds in a row, losing just four players in this time before a triple kill by Karzheka on Bandit ended the run on round 10, and a successful 1v1 by Scyther over Pengu due to lack of time on round 11 put the Russians on map point. The game was eventually drawn between the teams as ShepparD died with a single second remaining while trying to defend the Blue/Sunrise Bar site.
This is now G2 and Empire's third draw in three best of ones, showing that they are close to inseparable. This result means that Empire drops back from the league leaders of Looking for Org (previously known as LeStream Esport) while Na'Vi sees the biggest rise as their two wins have pushed them up from sixth place to third.
North America
Next came North America, as playday three kicked off last Monday which saw the debut of Luminosity Gaming within the scene as they played the Susquehanna Soniqs. In another game on Coastline, this matchup was defined by individual plays as shown on the very first round, with both Rexen and Goddess getting 3ks of their own before Hyena shut down the Soniqs and took the round. Plays like this continued on for much of the game, with Rexen getting a 3k and 1v1 in round two and Supr pulling off a 3k in round three.
By the end of the first half, it was 4-2 to LG and it only got worse from here on for Soniqs. Round 4 saw another successful 1v1, this time by Tomas as he traded off Rexen, before Soniqs got their third round defending the Kitchen/Dining objective. GhxsT on Smoke shut down the entire enemy team, getting a 4k of his own, while Goddess killed the only other player of PiXeL.
This did seem to breathe some new life into the Soniqs as they took the following three rounds also as they looked in control, but it wasn't to last. A frag heavy roster such as LG can't be held down for too long as you can trust one of them is just off a multi-kill to end the round, which precisely what happened on round 12. With Soniqs up 6-5, Rexen on Twitch demolished their Blue/Sunrise bar defence in a matter of seconds as he killed four players during the execute which, along with a lone frag from Doodle, took the round and ended the map in a draw.
Playday four's highlight, however, didn't involve any of these rosters as we saw the top two seeds from last season faced off. Evil Geniuses' reputation as the top team in the region combined with recent losses by DarkZero to Parallax Gaming and Execution in the USN, as well as a 1-7 loss to '92 Dream Team the week in the Pro League, made EG the favourites to the vast majority of people with only 3/11 casters picking DarkZero.
This faith in EG initially proved warranted as they won three rounds in a row with only six deaths between them across the rounds. This ended in round four when BC on Gridlock got a 3k in the final six seconds of the round against his old team, quite dramatically changing the tempo of the game. Following this singular close round, DarkZero had three one-sided rounds of their own which ended the first half of the map and into the second half. At this point, it was 4-3 to DZ, and it'd been a very clear tale of two halves, but these gulfs in singular rounds vanished and the match became much tighter as we approached the end of the game.
Round 9 ended in the first 1vX situation of the game as Yung achieved a 1v2 against Hotancold and Mint in the third double-kill of that very round, while round 10 saw Hotancold end an otherwise close round with a three second 3k to put the score at 5-5 with two rounds remaining.
The final two rounds saw DZ defend both the Reading Room/Dining and Service/Cooking objectives, and both were decided by the time limit. Round 11 saw a strong North side roam game by DZ waste so much of EG's time that Geoo, Necrox and Yung were simply forced to rush the site with five seconds remaining, while round 12 went even worse. The time limit meant we saw just four kills in the entire round, with it ending in a 2v4 situation as an Evil Eye denied the plant from going down at 0:00.
Thee results put Soniqs on the board this week, but they still sit somewhat uncomfortably in last. The biggest climber of week two, however, is DarkZero as this victory over EG meant they were the only team to move more than two spaces in the leaderboard -- from fourth to second in their case.
Latin America
Finally, we had Latin America where we saw a number of surprise games. While playday three's star game was billed as NiP vs FaZe, the first game of the day was clearly the best as Team oNe pulled off a remarkable comeback against Immortals. Put simply, there were four remarkable clutches and a 4k by LuKid (who very almost beat the Pro League kill record in the process). The game is one you very much have to watch rather than read, so check out our highlights of it below with the full vod found here.
Finally, we had four major matchups on playday four as Immortals and Liquid -- last season's second and third seeds -- matched up, Team oNe took on another one of the big dogs in the region in NiP, the sixth and seventh-seeded teams of RDS and INTZ faced off, and the two teams embroiled in a recent match-fixing scandal -- FaZe Clan and Black Dragons -- met again.
While all these games are really important, Immortals vs Liquid has to be the standout game of the week. Aside from the match featuring the highest-seeded teams to face off this week, the game saw a massive three 4ks and multiple 1vX victories, making it a highly contested match.
You wouldn't have got this impression after round one, however, as the round had ended with just three kills as Liquid ran out of time to push. This happened once again in round three as psk1 and xS3xyCake were left to find two defenders in one second, and then round four ended with Muringa losing a 1v3 as he ran out of time and was forced to rush with no time left, allowing Novys to pick up an easy kill, carrying on from Bullet1's 4k earlier in the round.
This led to a first half scoreline of 5-1 to Immortals, a pretty one-sided affair considering Border is seen as somewhat balanced. However, Liquid still had a lot of fight left in them. On round seven, Liquid won their first defense without losing a body, marking the start of their own winning spree. Immortals tried everything from rush strats on round eight to Finka off-picks to prioritising the plant, with their lone victory coming on the sole round they managed to catch Liquid off-guard. After taking out Nesk, Immortals managed to get the bomb down in a 5v4 situation, forcing Liquid to rush straight into the barrel of Immortals' weapons as Novys, pX, Bullet1, and MKing all picked up a kill each to secure at least a draw:
This eventually led to the match stretching all the way to the final round, with Liquid needing to win on the Customs/Supply objective to take home any points -- and they did exactly that. Their newest pickup of Muringa won the round almost single-handedly on Maestro as he got a 4k to kill the Immortals' push and end the game in a 6-6 draw.
Interestingly, the week's games saw just one change in the standings as INTZ rose two places thanks to heir four points gained following a win against ReD DevilS and a draw against Liquid.
---
And so, here's our roundup of the three main region's Pro League games. Check out the APAC news roundup here for full updates on everything that happened in the region.