Headspace é uma organização de caridade australiana voltada a providenciar auxílio à saúde mental de jovens de 12 até 25 anos. Desde sua fundação em 2006, eles ajudam milhares de adolescentes na Australia através dos centros nacionais headspace além de serviços online.
Há mais de 100 centros headspace na Australia oferecendo médicos e outros especialistas em saúde mental para ajudar com qualquer coisa, confidencialmente e geralmente de graça. Outra alternativa é acessar os serviços online ou por telefone.
Por ser financiada principalmente pelo governo australiano, as doações serão destinadas à promoção de campanhas de conscientização para se assegurar que o conhecimento da causa chegará ao maior número de pessoas possível. Você pode doar aqui e conhecer mais sobre a caridade através de seu website, Twitter ou Youtube.
The Teams
Oito jogadores atuais da Pro League e três treinadores atuais de todas as equipes disponíveis da ANZ Pro League, além de oito notáveis ​​streamers, estarão envolvidos neste evento formando as quatro equipes abaixo:
Team Iron Wrath - Kasper, Warden, Fishoguy, Mitchiijohn, and Laura
Team Raven Shield - JackDaddy, CursedWings, Dgtl, Uyen, and Caaaaate
Team Lone Wolf - Shabz, Ethan, Raven, Nikoh, and Raejay
Team Black Arrow - Diesel, Maxs, Kngz, MrsDiz, and Timmeh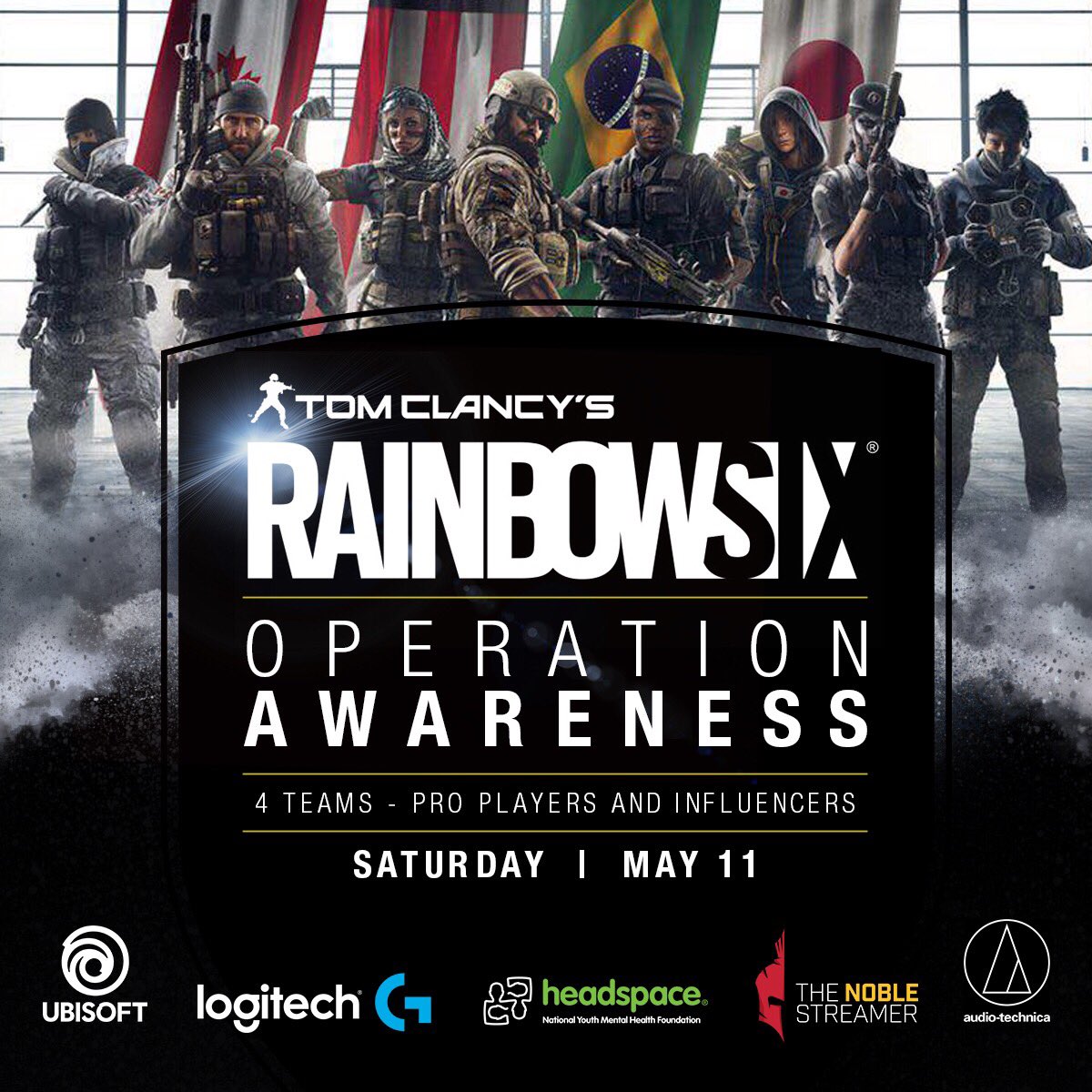 A Transmissão
Os jogos começarão às 05:00 no horário de Brasília e serão transmitidos no canal da Twitch Rainbow6ANZ
Team Raven Shield vs Team Iron Wrath

Team Black Arrow vs Team Lone Wolf

Os vencedores desses dois jogos se enfrentam
As semi-finais serão MD1 enquanto a final será disputada em uma MD3.
Os casters da Pro League ANZ Devmarta, Cthulhu e Monkeyfist narrarão as partidas, que terão como espectador o organizador do evento, Skye.
Nós falamos com Skye sobre o torneio, a caridade e seu envolvimento em ambos:
Primeitamente, o que te fez decidir organizar um torneio como esse?
Por volta de Novembro, ThyJebusBeDone e a equipe do camal R6_ANZ queria organizar um jogo de caridade junto a dois influenciadores da região. Infelizmente devido ao timing, a idéia não foi levada à frente, porém eu ainda tinha a ambição de fazer um evento como esse. Agora, juntamos força com um outro influencer dentro da comunidade de R6 da região da ANZ, UberTimmeh, que tinha uma visão parecida com a nossa, para criar a Operação: Conscientização, junto com outros dois diretores do projeto: Lozza361 e Xpl0sions.
Como você decidiu optar pela Headspace?
Eu já tinha previamente organizado um evento com eles, e os achei bem interessantes para trabalhar com. Além disso, me atrai o trabalho da Headspace, que apoia jovens com dificuldade por conta de problemas de saúde mental, providenciando ajuda em mais de 2 milhões de ocasiões.
Quando vocês planejam arrecadar nesse torneio?
Planejamos arrecadar A$5000 (R$14000.)
Como tem sido a repepção do evento pela comunidade?
Extremamente positiva. É algo que a comunidade de R6 parece realmente apoiar e é ótimo ver isso. Nós também recebemos feedback que usaremos caso resolvamos fazer uma segunda Operação: Conscientização.
Quem você acha que ganhará o torneio?
Acho que o mais interessante é que os times foram escolhidos aleatoriamente, o que provavelmente fará com que tenhamos um torneio equilibrado. Espero jogos apertados e intensos entre esses influencers e pro players!
Podemos esperar mais eventos de caridade no futuro na comunidade da ANZ?
É algo que eu pessoalmente certamente quero continuar fazendo e que a comunidade parece apoiar.
---
Assista no sábado, 11 de maio, para apoiar uma grande causa e assistir a uma ação competitiva de classe mundial!